HOW TO:
Create a Showcase Page
for Your Entertainment Production
Tips for creating (and launching) a showcase page that works hard so you don't have to. You're just a few steps away from earning money and reaching global advertisers.
Download photoshop templates:
We want you to be successful. Here's a few tips to help your content attract more partners.
Graphics of your content title typically perform best. Similar dimensions to an outdoor billboard. This image is shown at top of your page and in search results.
1700 x 477 pixels (.jpg or .png)
Smaller, vertical version of the 'Header Image'. Similar dimenstions to a poster. Simple graphics of your content title typically perform best. This image is shown on your page, in matches and some communications.
250 x 370 pixels (.jpg or .png)
Choose the most appropriate genre (or format in the case of social media influencers) which best represents the type of content you create.
Links to your official website and social media accounts help establish credibility and allow brands to vet your content.
What types of brands are in each scene? Do you talk about products? Add as many types of products, locations or services as you'd like. These help the machines understand what you want.
Who enjoys the content your create? What country do the live? How many people usually see your content? Who are these people? 
Overview of your Production:
Add the title of your entertainment
Add the genre of your entertainment
Add images representing your entertainment title.
(Header: 1700 x 477 pixels)
(Thumbnail: 250 x 370 pixels)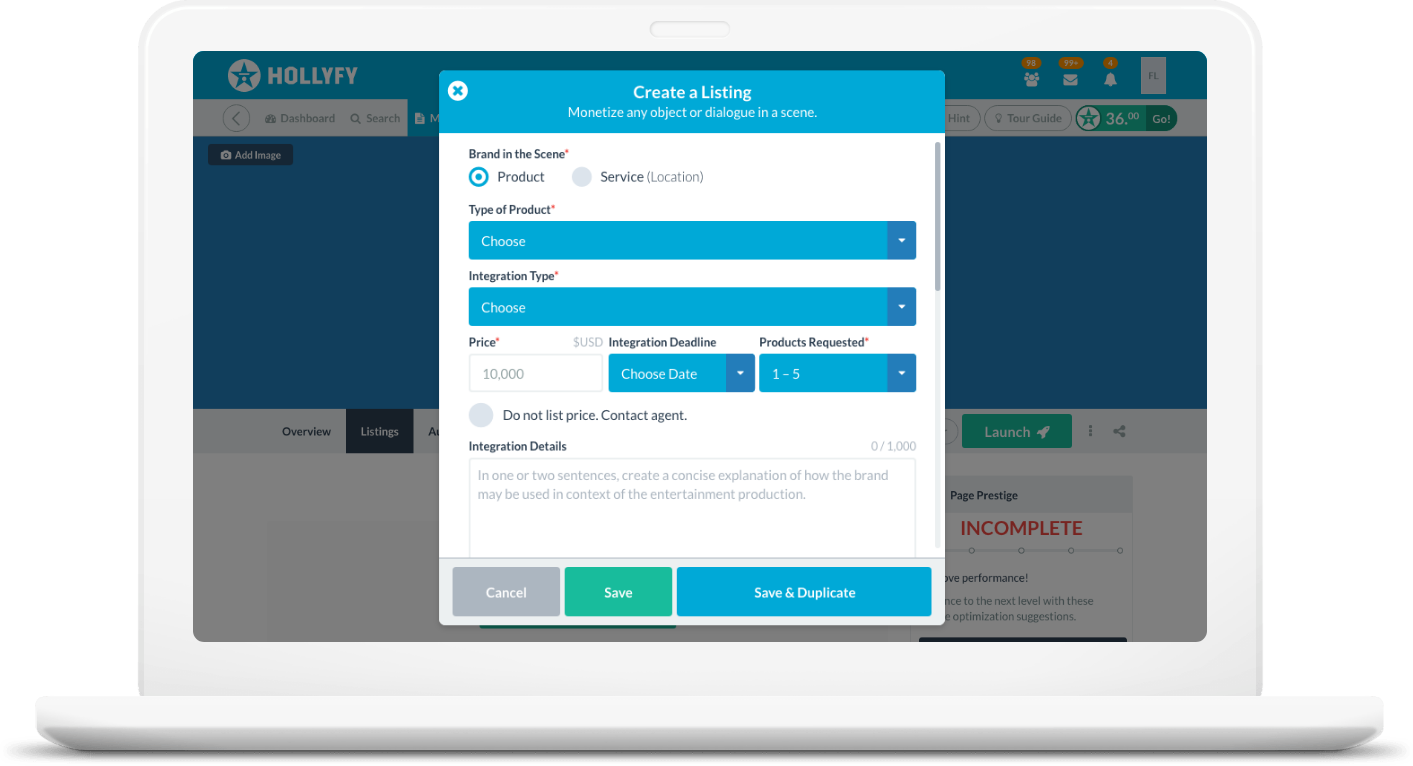 Create Listings:
(Integration Opportunities)
Type of product, location or service in any scene
Price of the integration
Description of the integration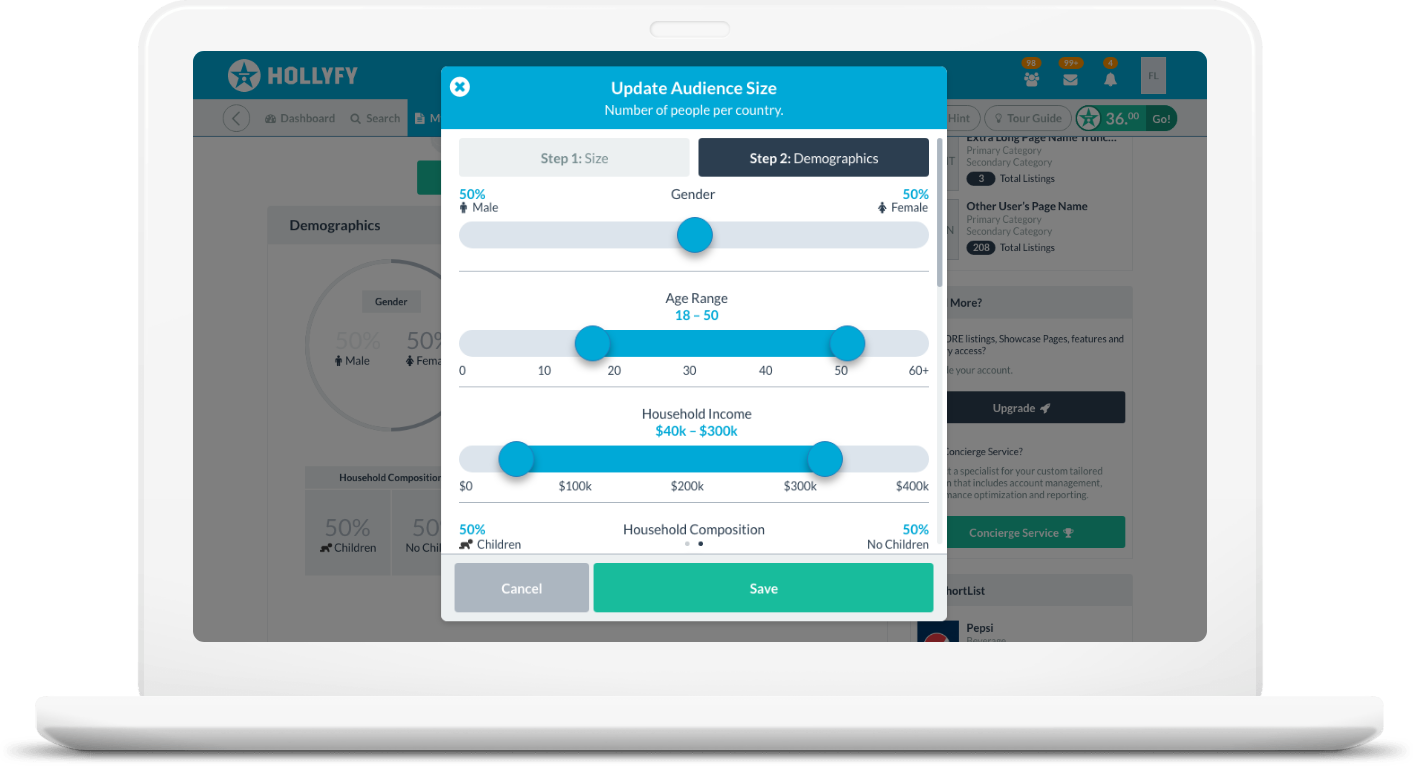 Target Audience:
(who usually views your content)
Location of your audience
Size of your audience
Demographics of your audience
Launch Page:
(Tap the 'Launch' button)
After completing the previous steps, your page will start matching with potential partners.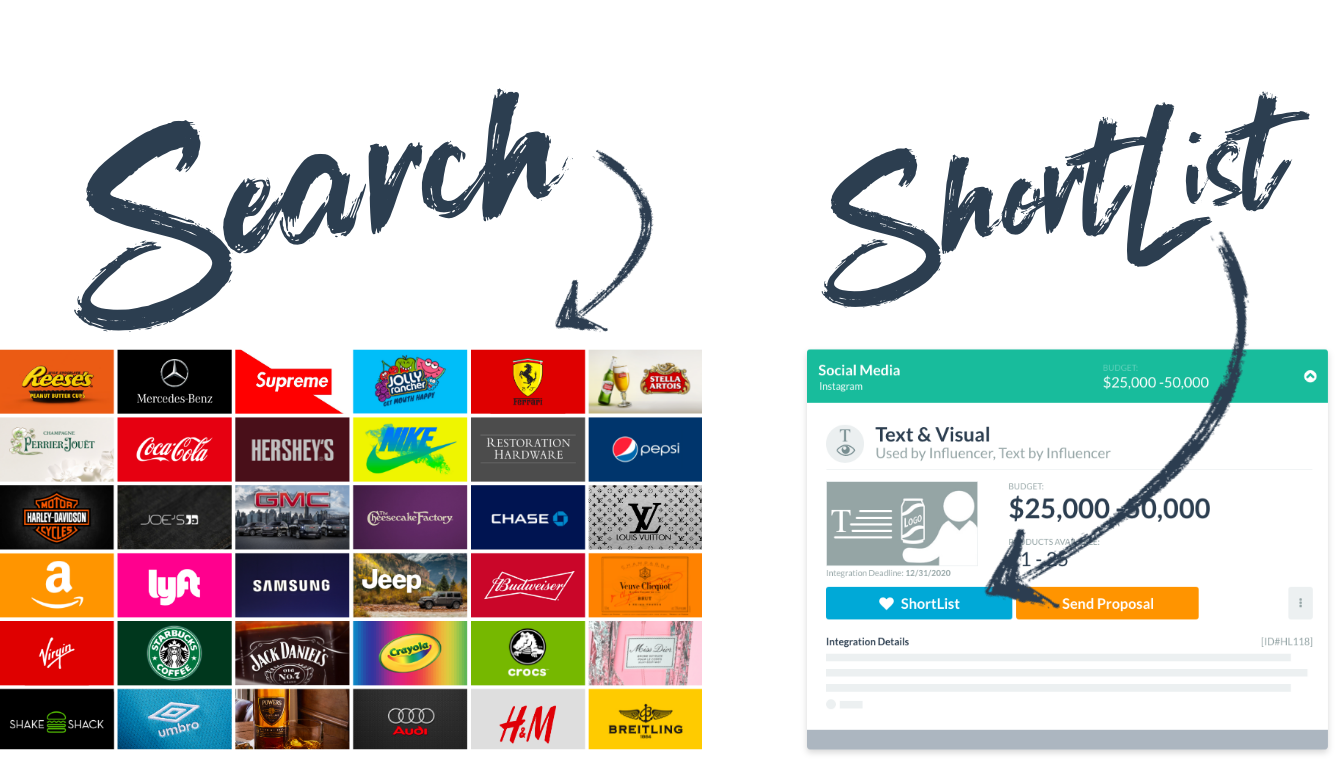 Search & ShortList:
(Make the first move)
Search for your favorite brands and ShortList your favorite listings or the entire page. Make proposals and pitch ideas.
It's that easy.
Your Showcase Page and listings will start generating matches each time you login.
Check-in daily to receive matches. 
Opportunities are endless.
Your questions answered
For more helpful suggestions, best-practices, optimizations, content guidelines, responsibilites and general knowledge…visit our help center.
Who can be a HOLLYFY creator?
It's easy to become a HOLLYFY creator in most areas, and it's free to create a listing. Blockbuster movies and streaming TV, video games, music videos, and celebrity social media are just a few of the productions creators have shared on HOLLYFY.
How should I choose my listing's price?
The price you charge for your integration listing is completely up to you. To help you decide, you can use your audience size, engagement and demographics (eg/ more attentive viewers, higher the price).
How much does it cost to list my production?
Signing up for HOLLYFY and launching your production or social media channel is free.
If you're managing multiple content creations (or, you are a power user) upgrade and add more features to your account. 
Once you book an integration, we charge a transaction fee for creators, generally between 2-10%, to help cover the cost of running of our business.
Can HOLLYFY help me with setting prices?
HOLLYFY's concierge service works with you to set your prices for better results.
You're always responsible for your price, so concierge service makes suggestions, and you can adjust prices any time.
What is required of advertisers before reserving the brand integration?
We ask everyone who uses HOLLYFY for a few pieces of information before they create with us. Advertisers need to have this info filled out before they can make an offer. This info helps make sure you know who to expect, and how to contact the advertiser.
HOLLYFY's requirements for advertisers include:
• Full name
• Email address
• Confirmed phone number
• LinkedIn verification
• Agreement to terms of use
• Payment information
Advertisers are expected, but not required, to have a profile picture. You may also require advertisers to provide verification before reserving the brand integration.