Managed Service
Specialists do the work for you.
For Advertisers
Specialists find creators to promote your brand.
For Creators
Specialists find advertisers that meet your goals.
What is Managed Service?
Managed service does the work for you. Our specialists align with your team's objectives and timeline.
What we do:
Source potential partners
Help prepare presentation materials
Coordinate meetings
Negotiate terms
Manage integrations
Schedule reviews
Deploy payments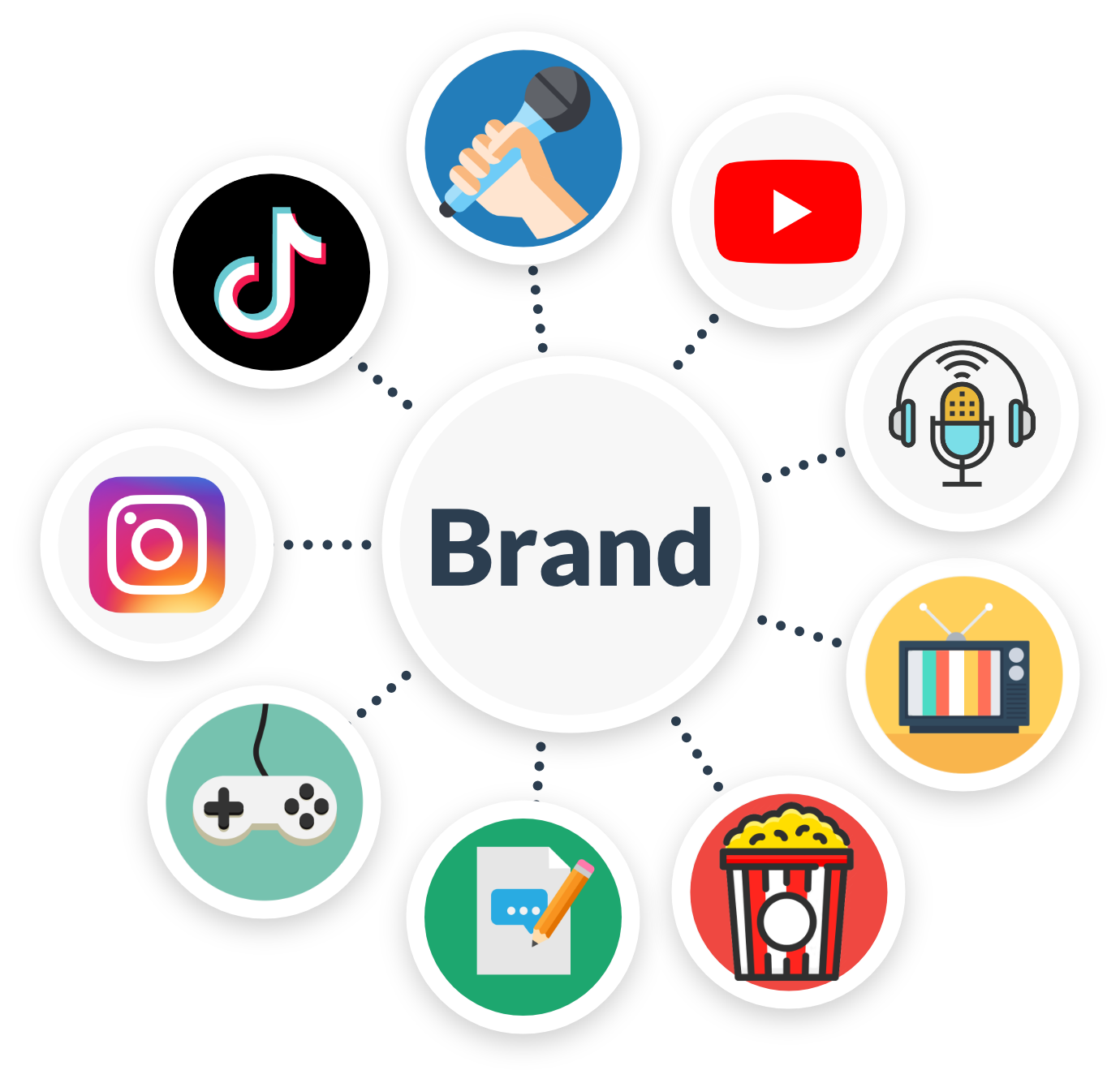 Benefits
Managed services offer a number of benefits to businesses, including:
Cost Savings: Managed services can reduce costs by providing access to specialized expertise and resources without the need for hiring additional staff, purchasing equipment or software, or investing in training.
Improved Efficiency: Managed services can improve the efficiency of business operations by automating routine tasks and optimizing processes.
Predictable Costs: Managed services are typically offered on a subscription basis, which provides businesses with predictable costs and helps them to manage their budgets more effectively.
Scalability: Managed services can be easily scaled up or down to meet changing business needs, allowing businesses to be more agile and responsive.
Access to Specialized Expertise: Managed service provides expertise and experience in across a range of marketing, technology and integration best practices, which can provide businesses with valuable insights and guidance.
Improved Compliance: Managed service providers can help businesses to meet regulatory and compliance requirements by implementing best practices and ensuring that integrations are properly managed.
Overall, managed services can help businesses to focus on their core competencies and strategic goals, while reducing risk, improving operational performance, and increasing efficiency and productivity.
How it Works
Our team does the work for you.
Start Free Trial
Discuss your objectives
Presentation materials
Desired brand integrations
Target audience
Discuss pricing / budget
We Source
Source relevant partners
Share your pitch deck
Inbound leads
Negotiate terms
Mangage day-to-day
We Negotiate
Payment Terms
Timing & dates
Brand integration details
Requirements
Review schedule
Manage Process
Distribute funds
Coordinate day-to-day
Manage deliverables
Verify integrations
Report analytics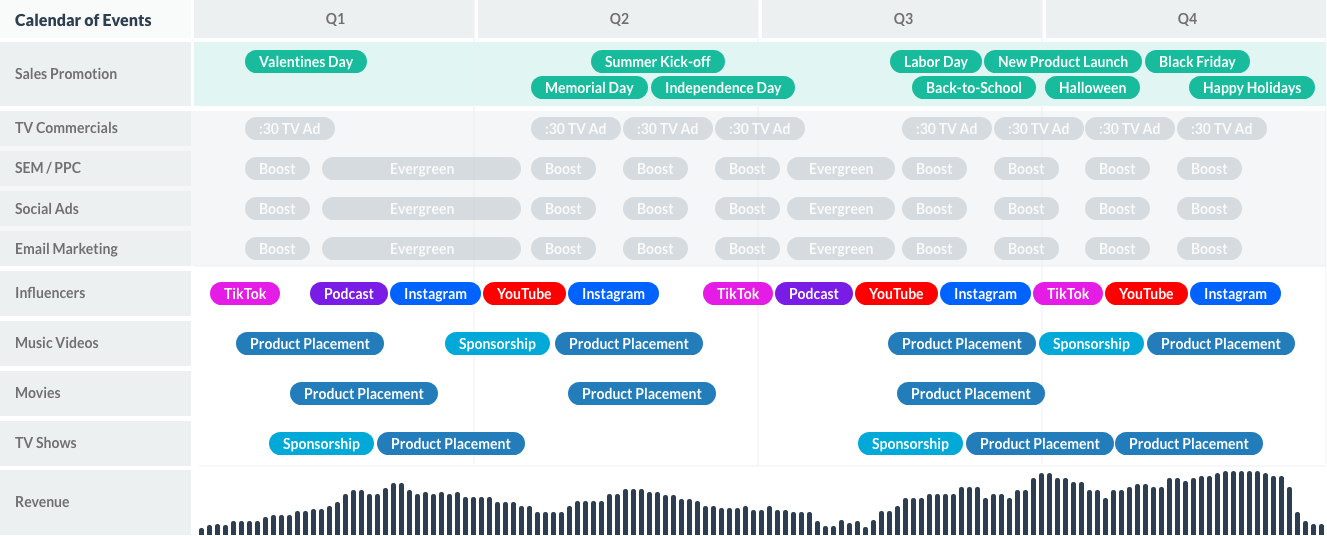 Brand Impressions
Boost brand awareness for ad campaigns, sales consideration, marketing objectives and your marketing goals.

Return on Ad Spend (RoAS)
Analysis of exposure and estimated value of product placement.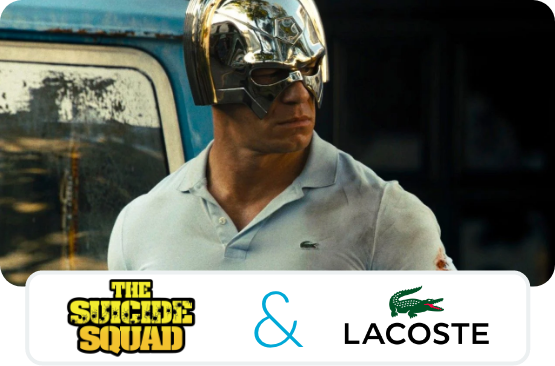 Exposure
Lacoste got nearly two minutes of screen time in THE SUICIDE SQUAD with an average Qexp of 29%.
Value
To date, THE SUICIDE SQUAD has been watched by over 70 million viewers. Factoring Lacoste's screen time, Qexp, the viewership of the movie, and the cost of advertising on US TV, our colleagues at Concave Brand Tracking value this product placement at $2.4 million dollars.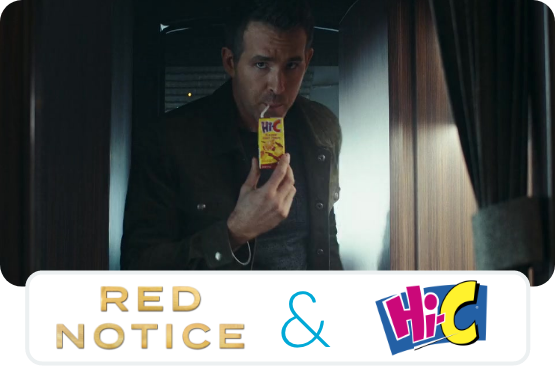 Exposure
Hi-C got three seconds of subtle exposure with its logo visible in RED NOTICE. This equated to a quality of exposure (Qexp) of 40%.
Value
To date, RED NOTICE has been viewed over 189 million times. Factoring Hi-C's screen time, Qexp, the viewership of the movie, and the cost of advertising on US TV, our colleagues at Concave Brand Tracking value this product placement at $218,000.
Join our Partner Program
Analytics firms, agencies, anaylsts, specialists, SMEs, PR experts, marketers, producers…and more. Become an authorized partner with HOLLYFY. We all rise when we work together.
Authorized partners recommended!
FAQ
Your questions answered
For more helpful suggestions, best-practices, optimizations, content guidelines, responsibilities and general knowledge…visit our help center.
What do 'Specialists' do?
What do Specialists do?
Specialists query our databases and third-party databases to find matches for you. They also design and implement complex models that align media deployments to your sales cylces (additional webhooks & APIs may be required).
How do I prepare for my call?
Our favorite quote:
"If you fail to plan, you are planning to fail."
We realize the first meeting is a discovery meeting and simply testing the waters. That said, we also believe in transparency and efficiency. Below is an initial list of items which will eventually need to be discussed. In time.
Whenever you're ready.
Maximize outcomes with this checklist:
Objectives & Key Results (OKRs)
Key stakeholders
Timeline
Quarterly / Annual budget
Historic monthly media spending (past 3 years) with quarterly snapshots.
Historic monthly sales (past 3 years) with quarterly snapshots.
Contracts: RFP, NDAs, MSAs, SOWs, LOI, LOE, Service Agreement, Performance Contract, Non-Compete, Indemnity Agreement, Trademark License Agreement, FTC Compliance, requisites, guardrails, … to each their own.
Types of brands you work with?
Consumer brands…mostly.
Typically with annual media budgets in excess of $1 million.
Depending on bandwidth, we selectively take on SMB brands with lower media budgets but innovative market positions.
What is a typical budget?
We often take on a variety of clients with annual budgets between $1 million – $7 million who have innovative offerings.
Program structures are typically annual AOR (Agency of Record) with multi-year engagements receiving a discounted rate and quarterly projects incurring a slight upcharge.
Types of content creators?
Musicians, record labels, production studios, talent agencies, influencers, movie studios, television studios, indies, video games, podcasts, blogs, and more.
We even handle media budgets for entertainment marketing.
We tend to focus on annual media budgets in excess of $500k. But, depending on bandwidth enjoy innovative entertainment offerings.
How do you measure success?
Brand Impressions: CCPM (Complete Cost per Mille…thousand views)
Return on Marketing Investment (ROMI), and Customer Satisfaction.
Return on Advertising Spend (ROAS)… the amount of revenue a company receives for every dollar spent on an advertising source. This is a gauge of the effectiveness of advertising campaigns. The higher your return, the more effective the ad source.
Key Performance Indicators (KPIs): Capital Expenditures by Marketing Channel
Break down KPIs by month, quarter and year. Enrich data and cross-reference it against past performance.
Customer Life-Time Values (CLTV).
Customer Retention Rates.
Conversion Rates.
Pipeline growth and acceleration.
Sales cycles, brand awareness, purchase intent, cohorts, and likely threats.
HOLLYFY
Collaboration Platform
Influencer Marketing & Product Placement