Influencers Fund Content Creation with Brand Integrations
Influencers can collaborate with brand advertisers who are want to work with influencers on TikTok, Instagram, YouTube, Twitch, podcasts, comedians, blogs, and more.
Collaborate with Advertisers!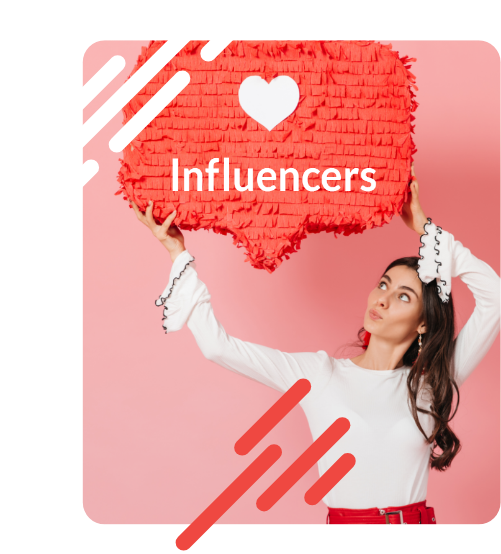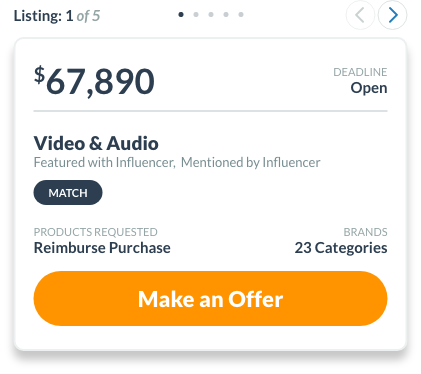 Get Paid to Feature Brands
in your Influencer Content
Influencers get matched with relevant brand advertisers. Machine learning aligns your listings for types of products, locations, and other brands with relevant brand advertisers who can fit seamlessly into the content you create. Start collaborating!
Almost any recognizable brand visible or mentioned in your post.
Possibilities are endless. If there's a product or logo in a post, and your audience aligns with the advertiser's audience, it probably has value.
Popular Platforms
Choose between a variety of popular social media apps.
Audience Engagement
Audience size, location and demographics matter to advertisers.
More Listings,
More Matches
Add listings for any type of brands you'd feature on your social feed.
Collaborate
Search, ShortList, and message advertsisers to start collaborating.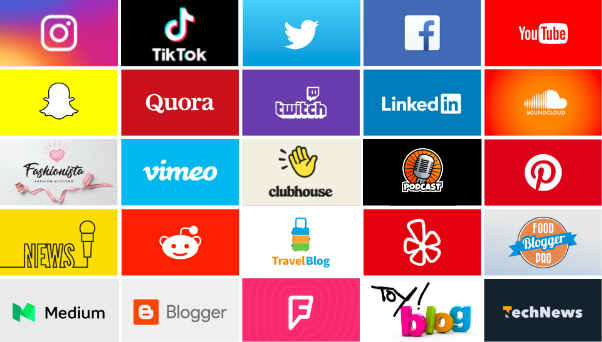 Charge What You Want
Leverage points: Audience size, engagement, average views, demographics.
We Get Paid when You Get Paid
Our nominal transaction fees are automatically reduced from your payouts.
Collaborate on your Terms
Send proposals to brands and recieve offers from brands. Choose as many as you want.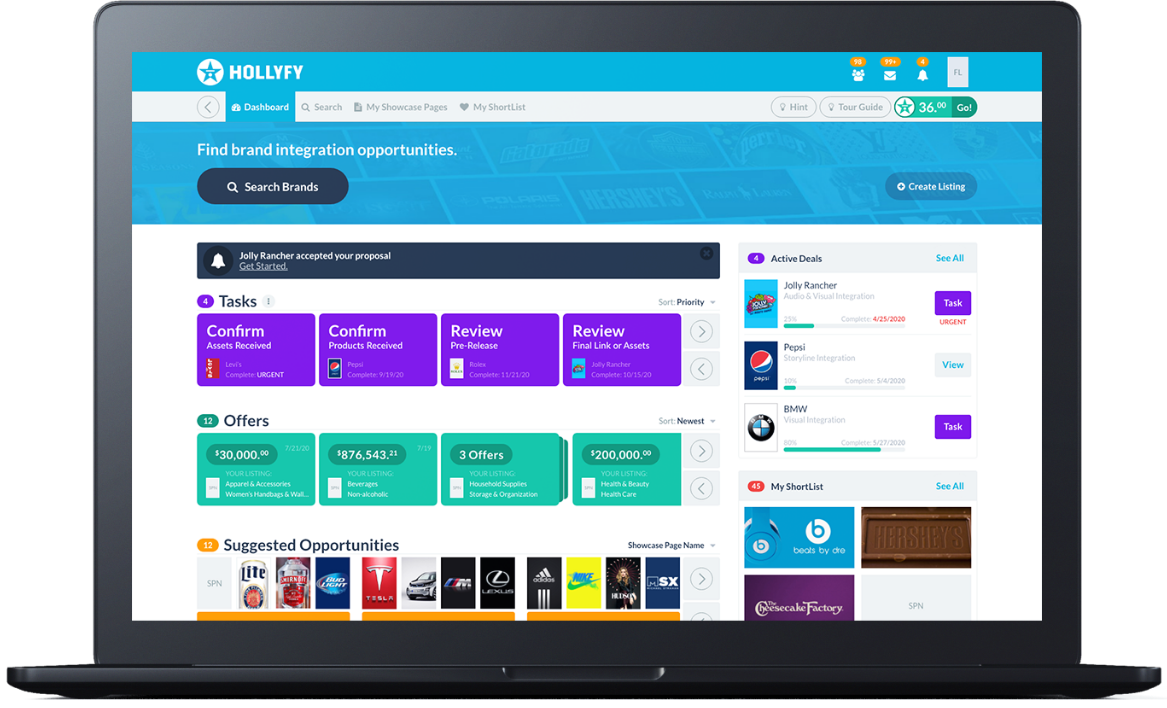 Be a Paid Influencer
Collaborating with advertisers is easier than ever. Simply follow these helpful hints to make the most out of your HOLLYFY experience.
1) Login weekly to your HOLLYFY account.
2) Keep your listings up-to-date.
3) ShortList (favorite) brands that interest you.
Convenient Communication 
If you want to ask questions, negotiate terms or set expectations before working with an advertiser, you can communicate with them in advance using our secure messaging tool.
Your Content, Your Rules
To help set expectations upfront, you can tell advertisers about topics, narratives, content, or subject matter you will/won't want. (For example, you might be vegan and won't eat steak.)
Integration Requirements
You can require that every advertiser provide verification to HOLLYFY before booking with you. You'll also have the opportunity to review integrations in advance or add extra controls over who you want to work with.
FAQ
Your questions answered
For more helpful suggestions, best-practices, optimizations, content guidelines, responsibilities and general knowledge...visit our help center.
Who can be an influencer?
Got followers on Instagram, TikTok, YouTuber, a blog, a podcast… professionals and celebrities are just a few of the influencers who have joined HOLLYFY.
Nano, micro, and mega influencers find HOLLYFY the easiest way to source and manage brand integrations.
Price of my listing?
Pricing is important!
More sales occur when prices are shown. This helps advertisers see the value you bring to them. Your content, your audience, how they're featured…and for what price.
Close more deals.
General rule of thumb; use your audience size, previous engagement metrics, and audience demographics.
(FYI: more attentive viewers, higher the price).
How much does it cost to list my account?
Signing up for HOLLYFY and launching your influencer account is easy.
Micro/nano influencers, try the Basic plan (free).
Managing larger accounts, more followers, multiple influencer accounts (you're a power user) upgrade to a professional or enterprise account for more features.
Can HOLLYFY do the work for me?
HOLLYFY's concierge service works with you to set your prices for better results.
We can reach out to advertisers on your behalf.
Freeing up time for you to work on content creation.
Concierge service makes suggestions, and you can adjust prices any time.
What is required of influencers?
We ask everyone who uses HOLLYFY for a few pieces of information before they collaborate. This info ensures both parties know who they're working with, and how to contact each other.
Requirements:
• Full name
• Email address
• Showcase Page with Listings
• Agreement to terms-of-use
Suggested (optional)
• Payment methods
• Two-factor authentication
• Profile picture
HOLLYFY
MediaTech Collaboration Platform
Influencer Marketing & Product Placement