Features
Advertise without Ads
Collaboration Platform for Advertisers & Content Creators
Media buying/selling platform for advertisers and content creators of ALL SIZES—SMBs to Fortune 500s—use HOLLYFY to collaborate on brand integrations, influencer marketing, product placement, sponsorships, content creation, and branded entertainment partnerships.
Dashboard & Search
Smart features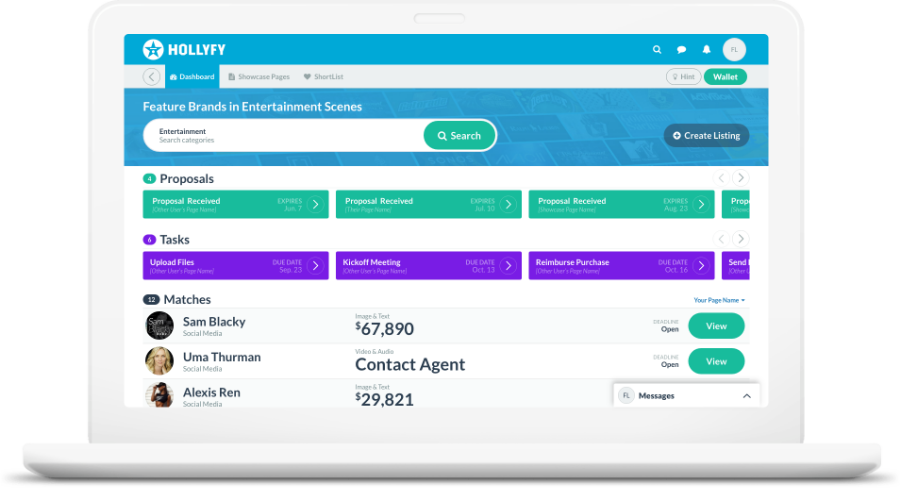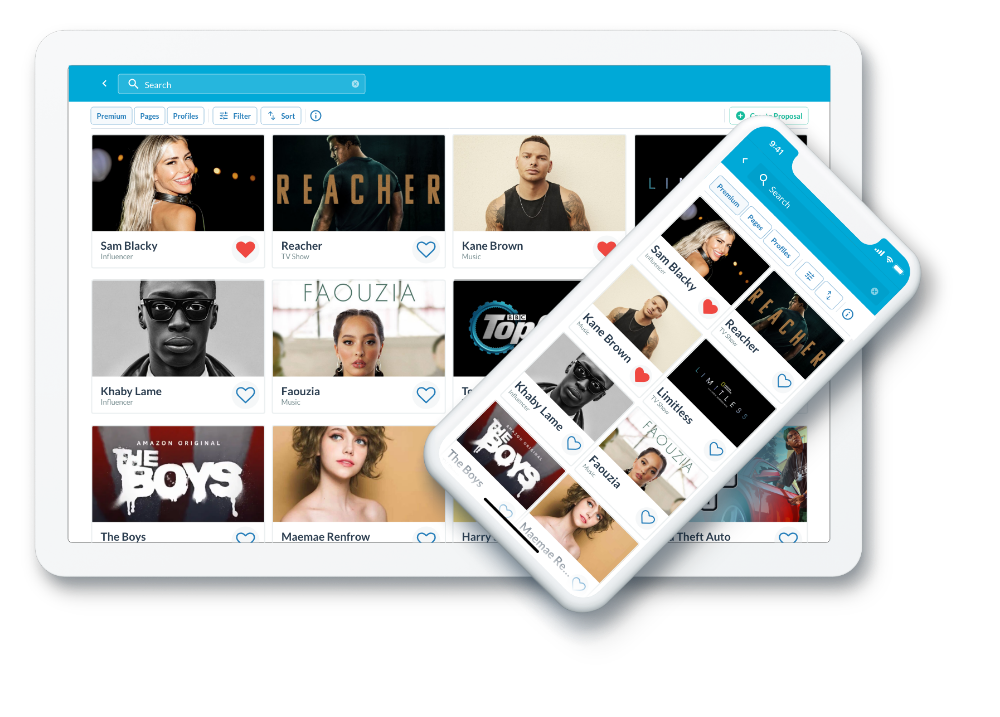 Smart Dashboard
Matches, offers / proposals, tasks, search, account optimizations, and more. How to use your dashboard for important next steps.
Matches
Matches to your listings and showcase page are located on your dashboard and at the bottom of your showcase page.
Search Pages
Search for advertisers or content creators by their showcase page. ShortList the ones you're interested in working with.
Premium Search
Search mega & macro influencers on Instagram, YouTube & TikTok. ShortList (aka Like) their page to invite them to work with you.
Transactions
Mark project complete to release funds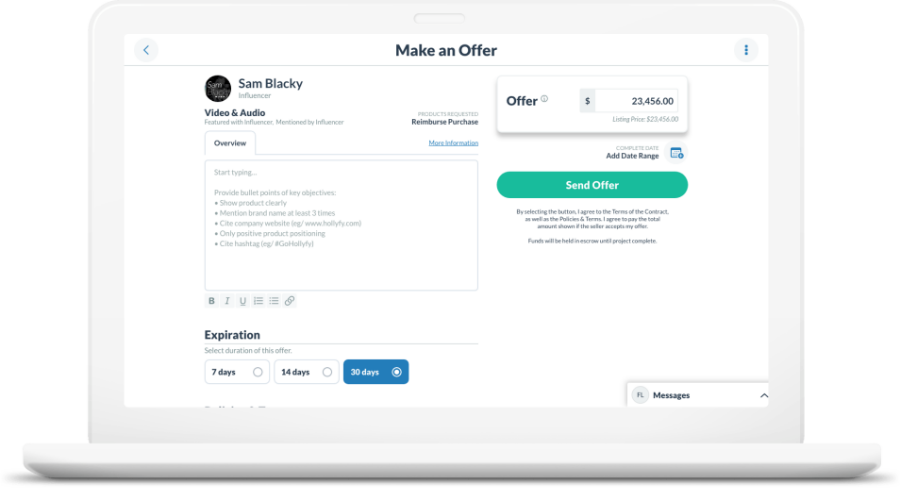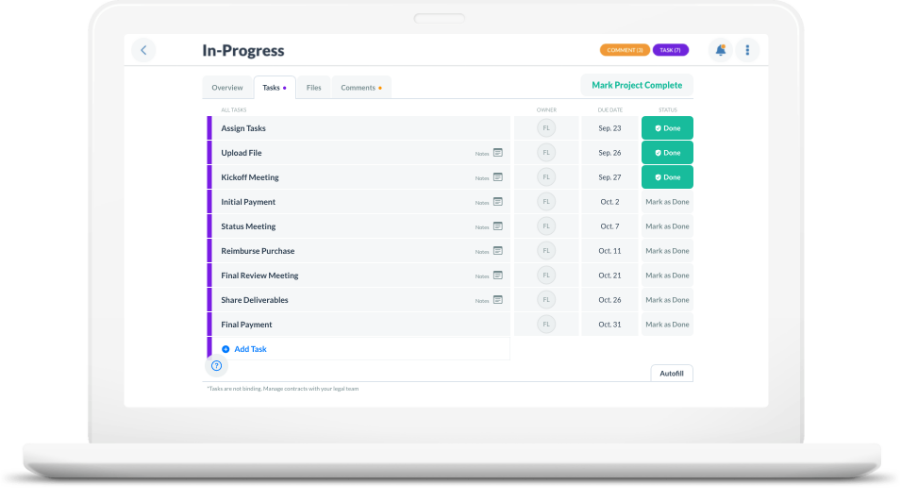 Projects
Projects are actions required to complete a transaction. When project is 'Marked as Complete' funds are released.
Escrow Enabled Transactions
Funds held until both parties 'Mark Project Complete'. Then released into creators wallet.
Task
Management
Manage tasks to complete a transaction: deliverables, due dates, files, reviews, and more.
Mark Project Complete
When both parties agree they've met the terms of project, 'Mark as Complete' to release funds.
Showcase Page
Represent your content, production or brand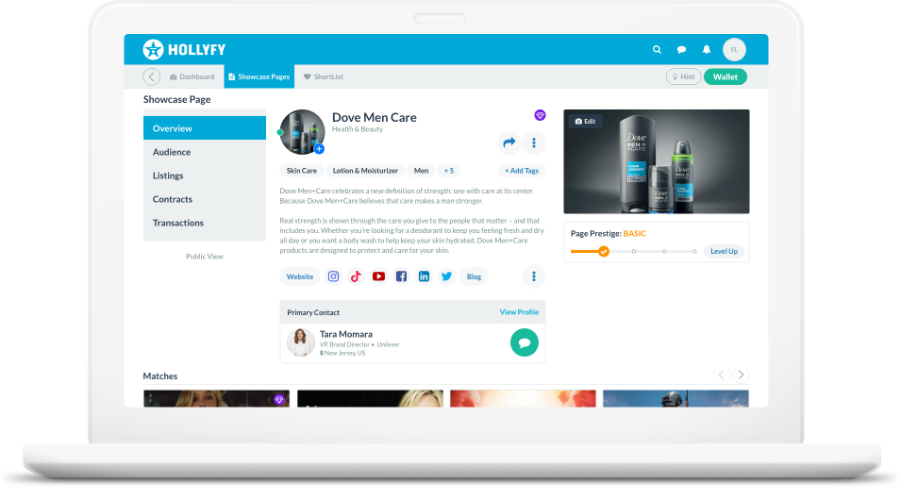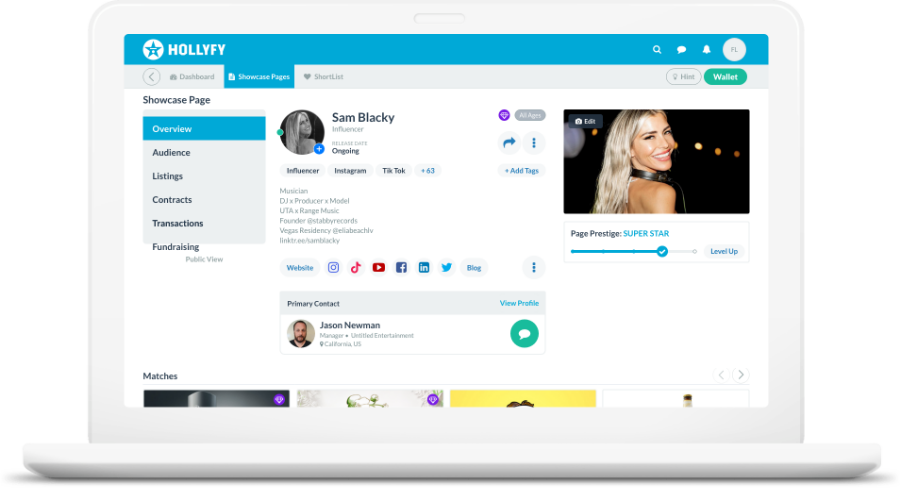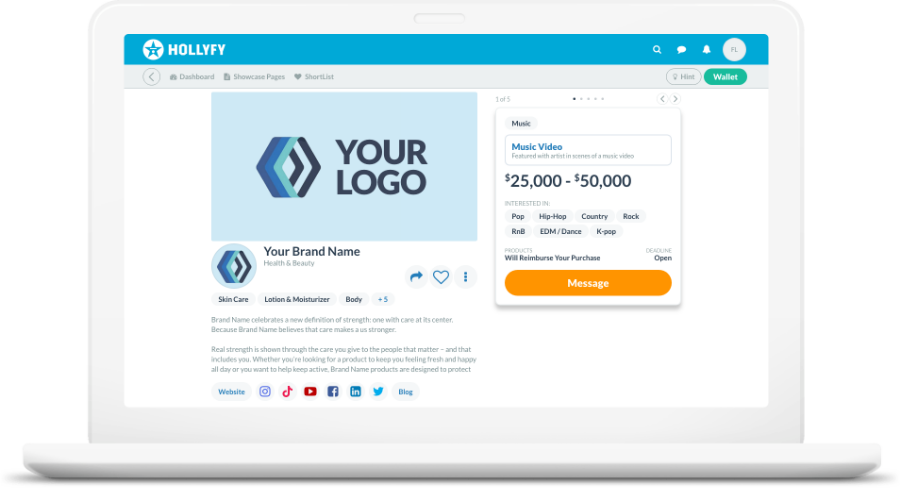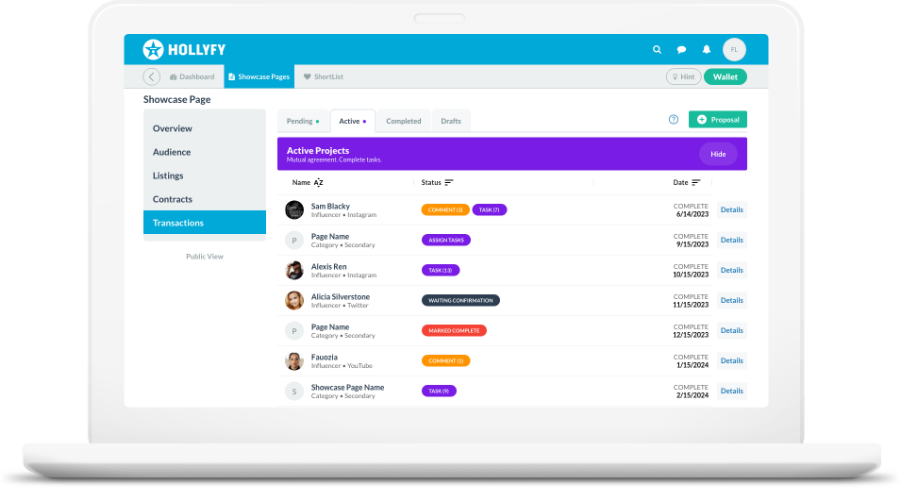 Overview
Images representing your content or brand. Official links. Description. Quick access of relevant information.
Audience
Define your target audience and audience demographics. This assists the matching algorithms and aligns you with partners.
Listings
Optimize listings for the types of content creators or products / locations / services you'd like to collaborate with.
ShortList
Tap the 'heart' icon to ShortList pages you want quick access to a later time. This also improves your content matching.
Account Settings
Configure your preferences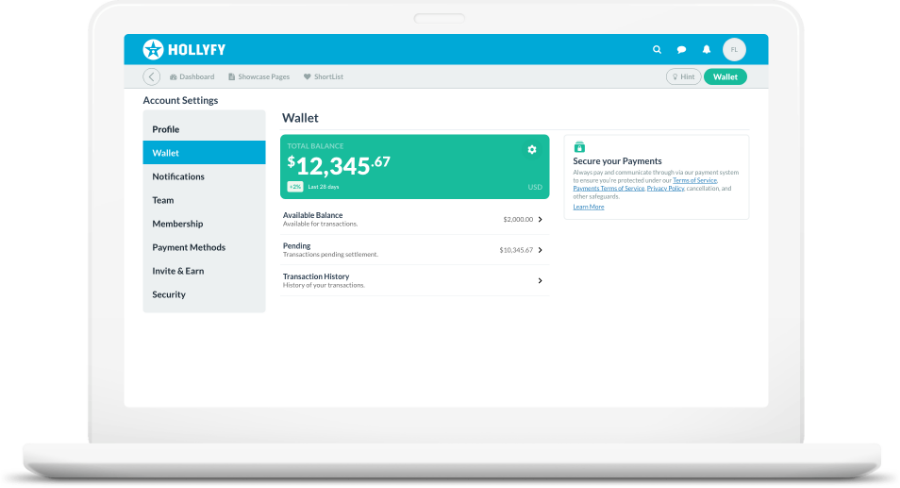 Digital Wallet
Completed projects will deposit funds into your digital wallet. Use funds for other projects or withdraw to your bank.
Profile
User profiles establish credibility and account security. Represent yourself authentically. Keep your account secure.
Notifications
Stay on-top-of account changes, offers, proposals, status updates, tasks, and other modifications with notifications.
Security
Two-factor authentication provides an extra layer of account security. Go to your Account Settings / Security. 
Managed Service
Tell us your goals, timeline, and target audience… we'll implement solutions.
"Decentralize Media, Marketing and Entertainment."
Machine Learning
Predictive probability algorithms match your Showcase Page & Listings with potential partners to expedite your objectives. Machine learning in media.
User-Friendly
Advanced, intuitive system controls transform marketing and entertainment productions. Simplify brand awareness goals and amplify growth. Decentralize the media industry.
Attention Economy
Most inclusive creator economy platform ever built. HOLLYFY processes millions of data points matching numerous content creators and advertisers weekly.
Digital Advertising Services
SEM/PPC, social media, email CRM, ad campaigns & more.
Help Center
Our help center puts controls at your finger tips with detailed articles, helpful advice, tips, resources, and relevant information about your account, showcase page, listings, transactions, wallet, and more.
Help Us Improve the Platform
All rights reserved. All brand names and logos are the property of their respective owners, are used for identification purposes only, and do not imply affiliation product endorsement.
HOLLYFY
Collaboration Platform
Influencer Marketing & Product Placement