Get Music Videos or Song Lyrics to Feature your Brand
Get your brand inside YouTube music videos or song lyrics to influence attentive audiences. Audio (song lyric) integration and video integration amplifies marketing initiatives.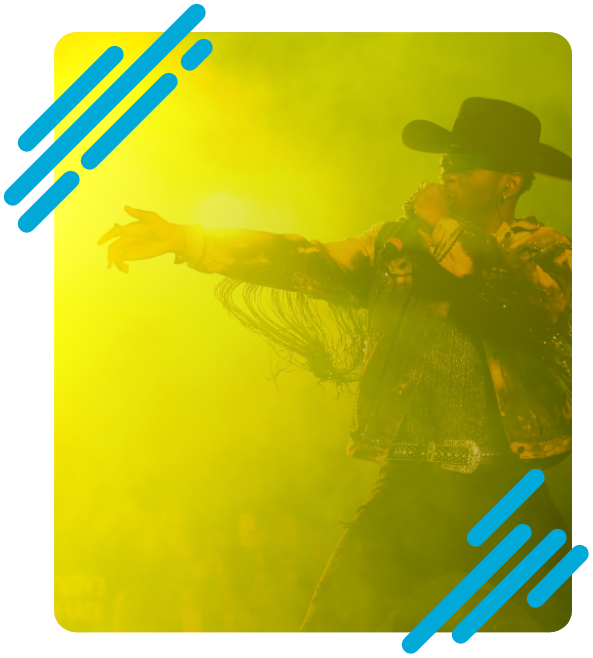 Music Videos and Song Lyrics
Amplify brand awareness
Brand building inside YouTube music videos and song lyrics has numerous benefits on brand awareness and sales.
Modify and harness brand perception by promoting your brand inside the scenes of music videos and song lyrics.
Increase brand affinity by leveraging the influence that YouTube music video provide for your brand clout.
When musicians feature your brand, the better chance you have of increasing your relevance within your target audience.
Music videos and song lyrics have propelled brands into consideration for decades. When deciding what products to purchase, consumers will often default to what they perceive as popular.
The holy grail of marketing strategy. Integrating your brand inside music videos and song lyrics gives people something to talk about…and that drives sales.
Use brand integration in your other advertising campaigns as a point of difference in the marketplace.
Step-By-Step Guide
Launch a page with listings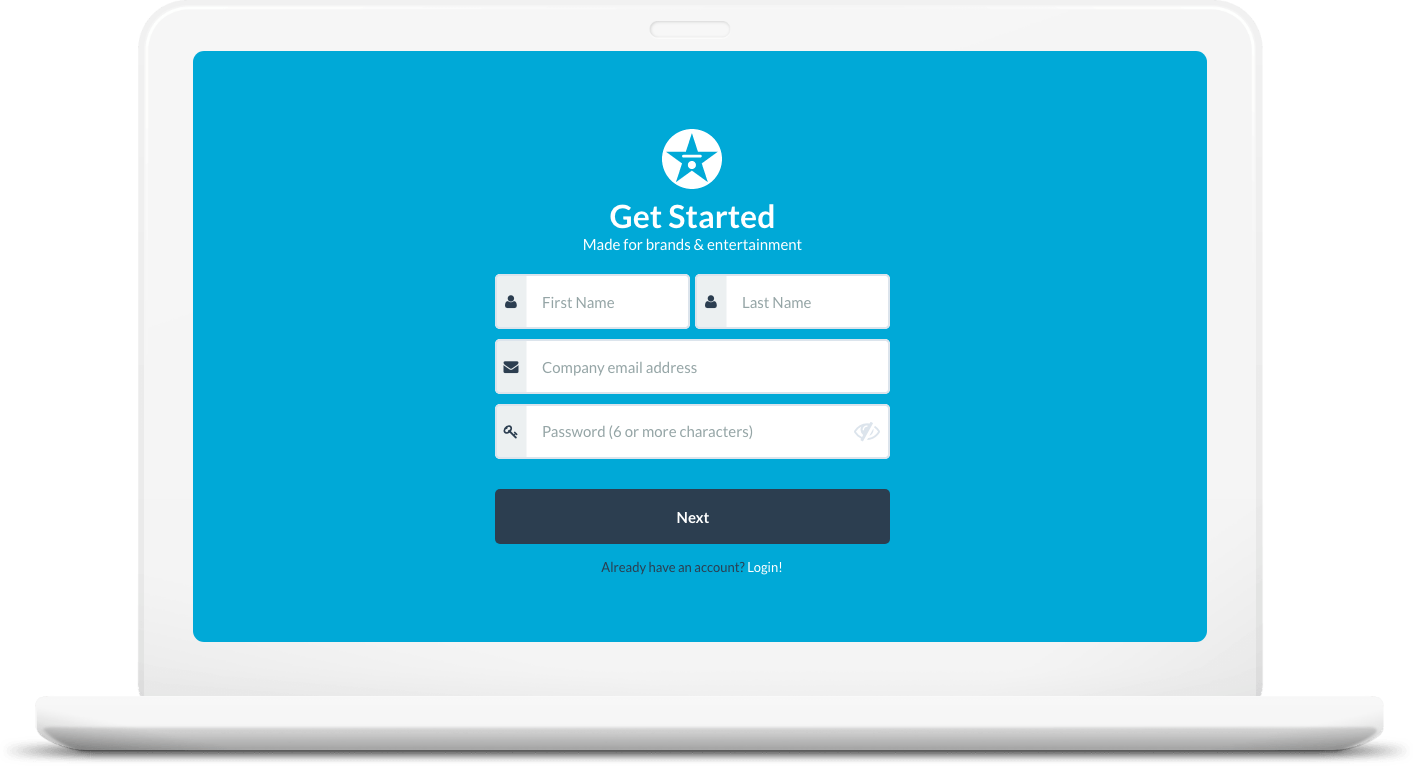 Step 1:
Sign Up
Create an account on the HOLLYFY platform to get started.
Step 2:
Launch a Showcase Page
Since this page will showcase your brand to the community, you'll want to add your brand's logo, brand name, basic info and more.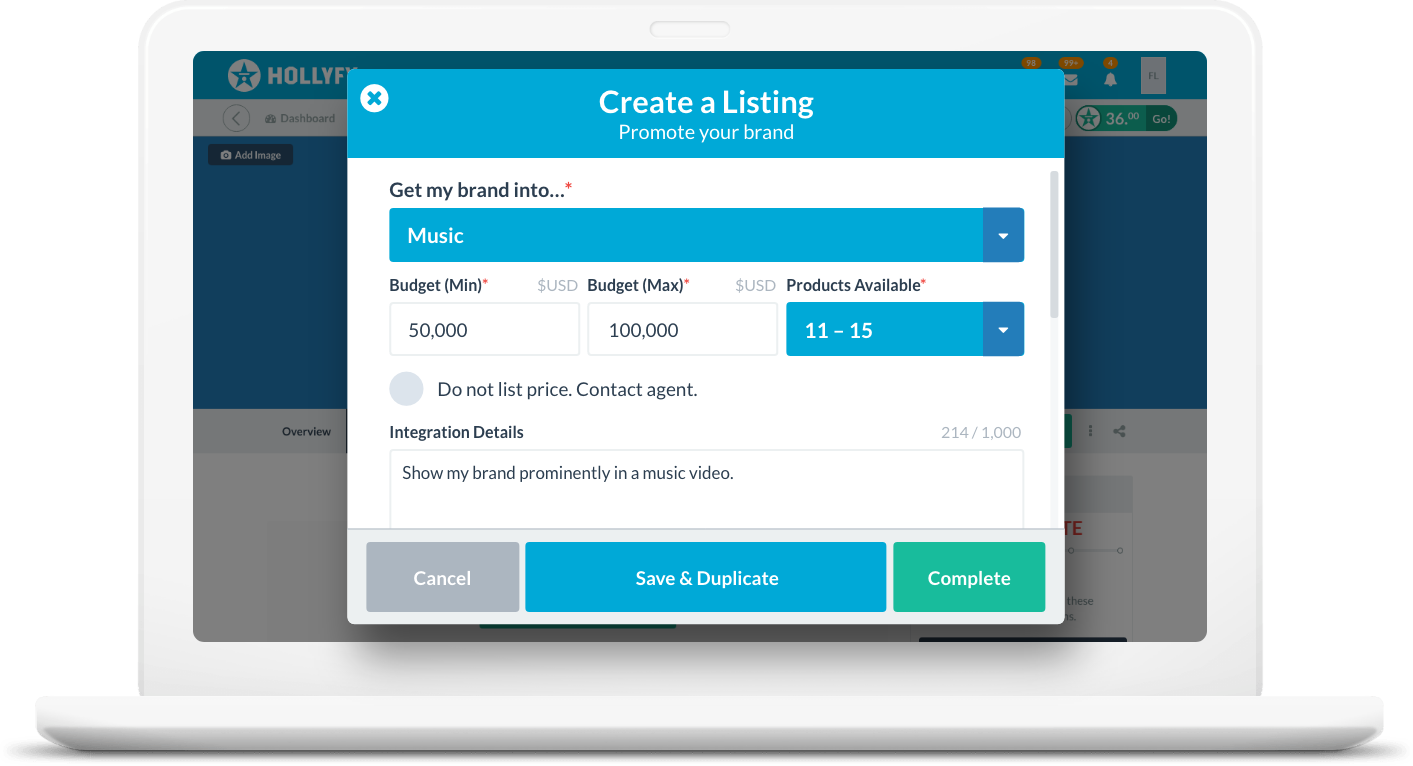 Step 3:
Create a Listing
A listing explains what type of partnership you're interested in. Want to get your brand into a music video? Create a listing that explains that.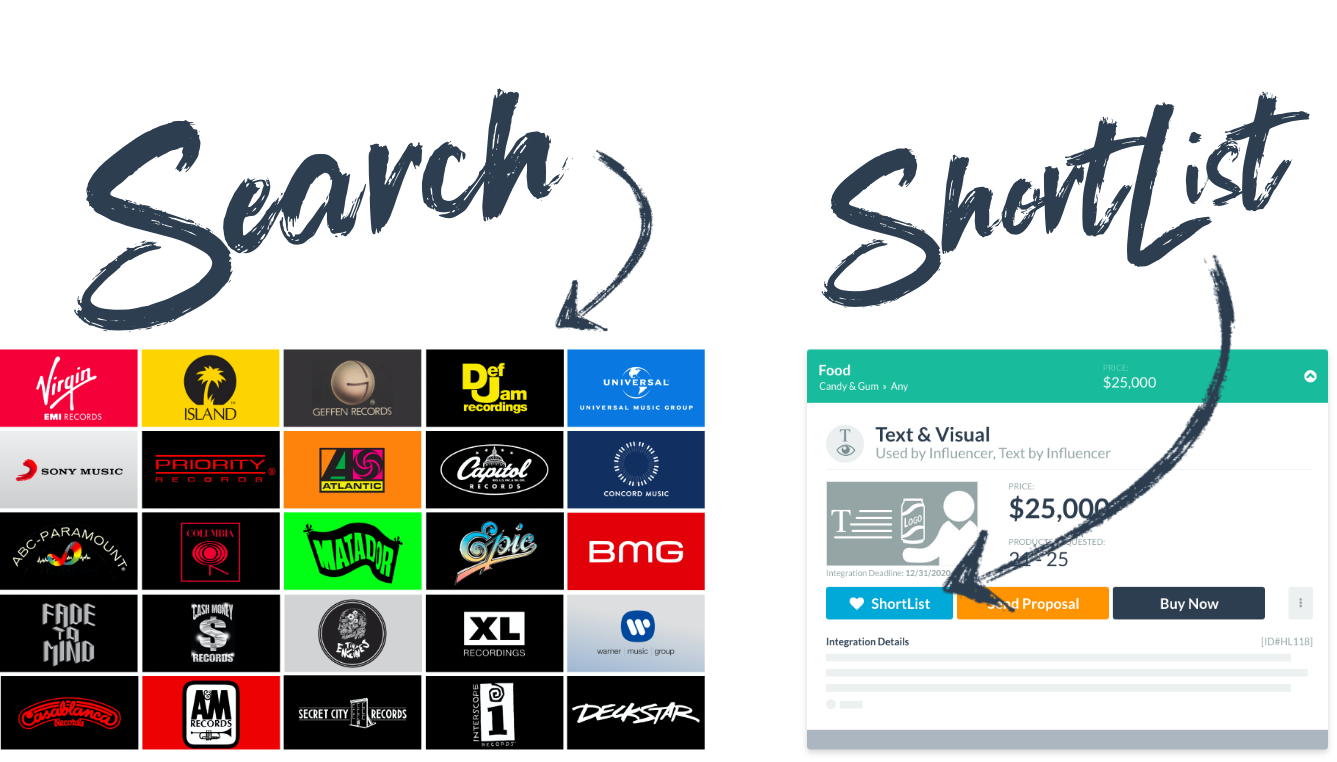 Step 4:
Start Connecting with Musicians
Once you've launched your page with a listing geared towards musicians, we'll start matching you with musicians on the platform. When you see one you like, you can get the partnership started!
Select music genres that appeal to your target market.
Pop Music
Pop music is the genre of popular music that produces the most hits. Songs that become hits almost always share certain features which are sometimes called the pop-music formula. This includes a good rhythm, a catchy melody, and are easy to remember and sing along with. They usually include a chorus which is repeated several times and two or more verses. Most pop songs are between two and five minutes long, and the lyrics are usually about the joys and problems of love and relationships.
Brand integrations: Apparel, electronics, restaurants, beverages, home decor, websites/apps, hotels, travel, health, beauty, food, retail stores, automotive, household appliances, furniture, business services, non-profits, finance, household supplies, utilities, tools, lawn/garden…
Examples: Taylor Swift, Billie Eilish, Justin Beiber, Ariana Grande, Shawn Mendes, Lady Gaga, John Legend, Selena Gomez,…
Hip Hop Music
Hip hop is more than a genre: it's a cultural movement sweeping up music, poetry, dance, art, fashion, and political philosophy. A lot of people use rap and hip-hop synonymously. For the most part, hip-hop was defined and embraced by young, urban, working-class African-Americans. While the origins of hip-hop popularity started in America during the 1980s, it has since evolved and spread globally into the cultural zeitgeist influencing trends worldwide.
Brand integrations: Apparel, automotive, electronics, restaurants, beverages, jewelry, food, retail stores, websites/apps, hotels, travel, beauty, furniture, business services, non-profits, sporting goods, household supplies, tools,…
Examples: Drake, Kanye West, Khalid, Post Malone, Travis Scott, Migos, Beyoncé, Kendrick Lamar, Lil Wayne, Lil Nas X, …
Country Music
Country music is defined as "a style and genre of largely string-accompanied American popular music having roots in the folk music of the Southeast and cowboy music of the West, usually vocalized, generally simple in form and harmony, and typified by romantic or melancholy ballads accompanied by acoustic or electric instruments.
Brand integrations: Apparel, automotive, beverages, tools, lawn/garden, electronics, food, restaurants, home decor, websites/apps, hotels, travel, health, beauty, retail stores, household appliances, furniture, business services, non-profits, finance, household supplies, utilities,…
Examples: Luke Combs, Dan + Shay, Kane Brown, Thomas Rhett, Florida Georgia Line, Chris Stapleton, Maren Morris, Jason Aldean, Luke Bryan,…
Rock Music
Rock music is a broad genre of popular music that originated as "rock and roll" in the United States. It often borrows from other musical and cultural forms. It is certainly arguable that by the end of the 20th century rock was the world's dominant form of popular music. Originating in the United States in the 1950s, it spread to other English-speaking countries and across Europe in the '60s, and by the '90s its impact was obvious globally (if in many different local guises). Rock's commercial importance was by then reflected in the organization of the multinational recording industry, in the sales racks of international record retailers, and in the playlist policies of music radio and television.
Brand integrations: Apparel, beverages, automotive, electronics, restaurants, jewelry, food, retail stores, websites/apps, hotels, travel, beauty, furniture, business services, non-profits, finance, household supplies, tools,…
Examples: Panic at the Disco, Imagine Dragons, Greta Van Fleet, Dirty Honey, PVRIS, Twenty One Pilots, Ghost, Cherry Glazerr, Sunflower Bean,…
EDM / Dance Music
Electronic dance music (also known as EDM, dance music, club music, or simply dance) is a set of percussive electronic music genres produced primarily for dance-based entertainment environments, such as nightclubs. This genre possesses massive popularity amongst people in their late teens and 20s.
Brand integrations: Apparel, electronics, nightclubs, beverages, websites/apps, hotels, travel, beauty, food, retail stores, non-profits, software,…
Examples: Marshmello, Martin Garrix, Hardwell, Diplo, Steve Aoki, The Chainsmokers, Zedd, Afrojack, R3HAB, Don Diablo, Kaskade…
Folk Music
Modern Folk Music is the folk music of these times. Of course, there are many different types of folk music each originating from local areas and people… Scottish folk music, Irish folk music, Viking folk music, Americana folk music,… and many other types of music have mixed in with the Folky sound. Modern folk music is really influenced by both traditional folk and punk, with many folk artists blending the rawness of punk with acoustic and electric guitars yet maintaining folk orientated lyrics.
Brand integrations: Beverages, snack food, food, apparel, instruments, travel, restaurants, electronics, websites/apps, lawn & garden, sporting goods, tools, home decor, furniture, …
Examples: Mumford & Sons, Bon Iver, The Lumineers, Iron & Wine, Beirut, Sufjan Stevens, Kings of Convenience, Ruston Kelly, José González, Belle and Sebastian…
K Pop music
K-pop (케이팝) is a genre of popular music originating in South Korea. While the modern form of K-pop can be traced back to the early 90s, the term itself has been popularized since the 2000s, replacing the term Gayo, which also refers to domestic pop music in South Korea.
Brand integrations: Apparel, restaurants, beverages, electronics, furniture, home decor, hotels, travel, websites/apps, health, beauty, food, retail stores, business services, finance, insurance, …
Examples: BTS, Blackpink, Red Velvet, Exo, SuperM, MONSTA X, Itzy, J-Hope, NCT 127, Seventeen, Stray Kids, Pinkfong,…
Comedy Performances
Comedy encompasses professional entertainment consisting of jokes and satirical sketches, intended to make an audience laugh. Similar to other music genres, comedy can be performed live, on-stage (stand up comedy) or on streaming services such as Spotify or podcasts.
Brand integrations: Food, beverages, apparel, home decor, hotels, travel, websites/apps, household appliances, household supplies, restaurants, personal services, home services, utilities, retail stores…
Examples: Kevin Hart, Jim Gaffigan, Jeff Dunham, Amy Schumer, Ricky Gervais, Dane Cook, Dave Chappelle, Bill Burr,…
Get your Brand Featured in YouTube Music Videos
Connecting with musicians and record labels has never been easier. Machine learning matchmaking helps align relevant advertisers with relevant productions. It all starts by creating a showcase page for your brand on HOLLYFY. In your page are the key attributes to help you meet your marketing goals: Overview, Listings & Target Audience. You can also search for entertainment opportunities, ShortList your favorites and get served up recommendations.
In addition to our smart, self-service platform you can also choose concierge service to have a personal assistant reach out to musicians and other entertainment creators not currently on HOLLYFY. We're making marketing, media and entertainment production easier than ever.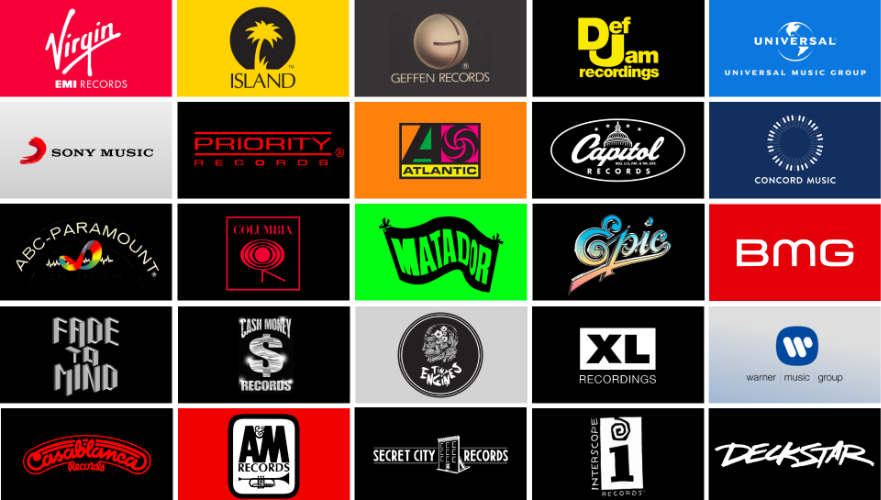 Country Music – Pop Music – EDM – Hip Hop Music – and more…
How Musicians Integrate Brands
Featured in Lyrics & Music Videos
From wearing apparel in music videos, mentions in song lyrics, showcasing electronics… music increase word-of-mouth and boosts sales. This all starts by creating a simple, yet powerful listing.

Musician mentions brand name inside their song lyrics is an easy way to exponentially amplify brand relevance.

Placing products, apparel, and objects inside scenes of music videos amplifies brand relevance and awareness.

Social media amplification on partners feed helps garner more views and generates traffic for both the brand and the musicians.

Storyline integration is weaving a brand's message into the theme of the music video. Brand is often integral.

On-screen signage can be a poster, billboard, storefront or vending machine with brand identity and message.

Partnerships inside and outside of the music can amplify advertising campaigns with integration across traditional media.
Brand Awareness
with attentive audiences
Get Matched
Musicians Relevant to your Brand
Machine learning helps align your brand with the musicians and entertainment productions who want to feature your product, storefront, location, service, etc inside their content. This helps your brand fit seamlessly into the storyline. Learn about AI ›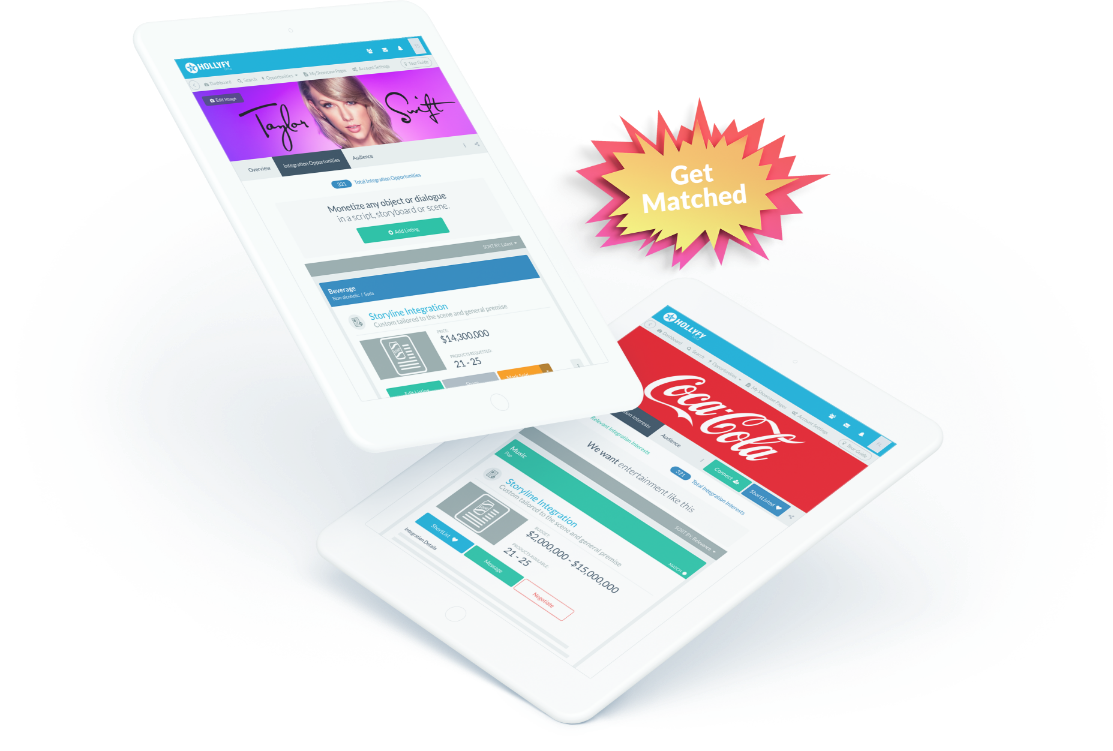 Smart Marketing
Amplifies Brand Relevance
HOLLYFY is built to be the next-generation marketing and media solution for companies of all sizes.
Everyone can now find, be found and connect with musicians and other entertainment creators who are ready to feature your brand in front of their audiences. You no longer need outside agencies. You can just get started. It's easy.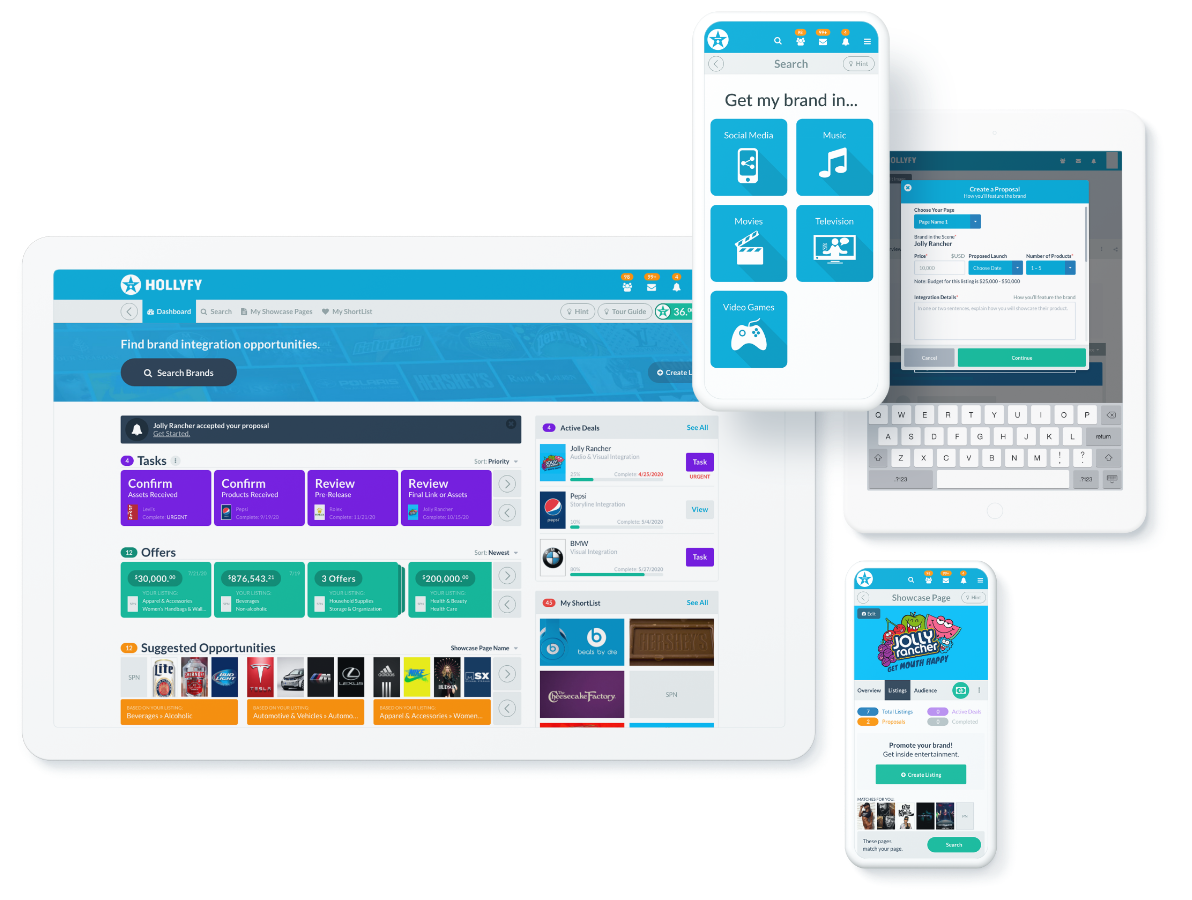 More about Getting Started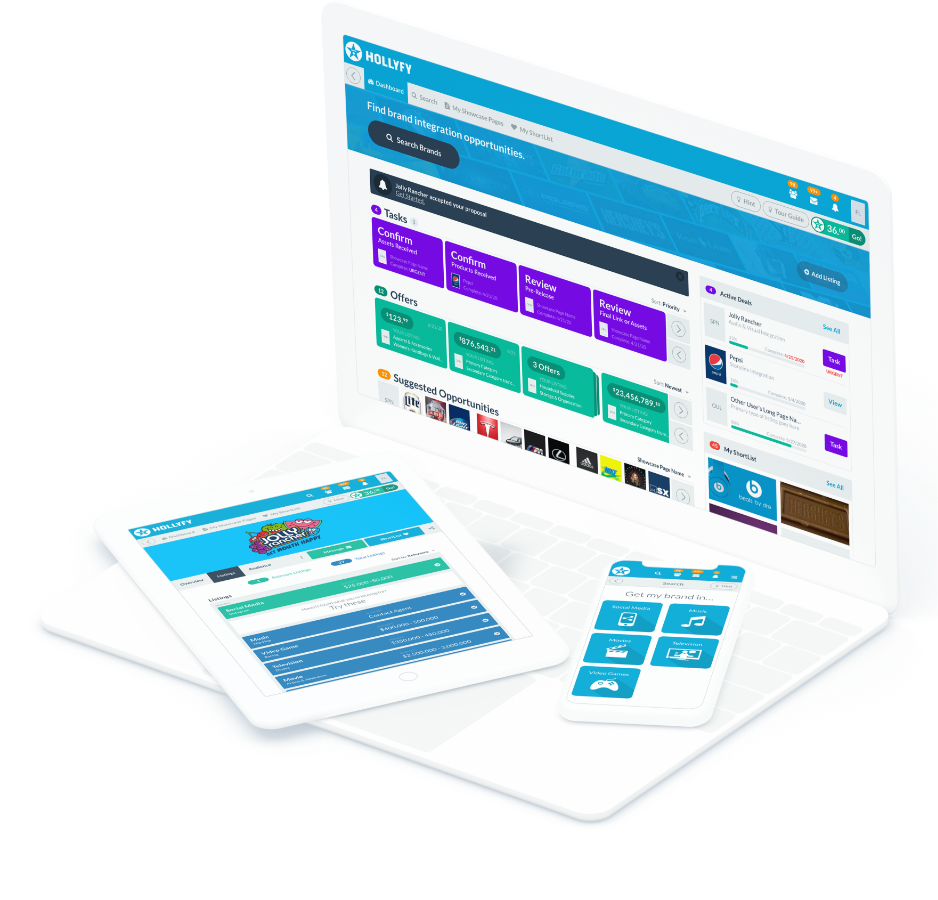 Get your Brand Featured in Music Videos
Connecting with musicians is easier than ever. Simply follow these helpful hints to make the most out of your HOLLYFY experience.
1) Login weekly to your HOLLYFY account.
2) Keep your listings up-to-date.
3) ShortList (favorite) musicians and entertainment productions.
Add-Ons
Helpful tools designed to achieve your objectives. Additional listings, page creation, page management, proposals, and more.
Full Service
Want us to do the work for you? Get dedicated SMEs (Subject Matter Experts) who will work with you to manage media budgets. Learn More ›
Want More?
Simply add what you need.
Your questions answered
For more helpful suggestions, best-practices, optimizations, content guidelines, responsibilites and general knowledge...visit our help center.
Who can be an advertiser on HOLLYFY?
It's easy to become an advertiser on HOLLYFY in most areas, and it's free to create an account. Luxury cars, women's apparel, fast food restaurants, headphones, and even chainsaw companies are just a few of the brands who use HOLLYFY.
How should I choose my listing's budget range?
The budget range for your integration listing is completely up to you. To help you decide, you can use the type of integration, audience size, and audience demographics to negotiate a final transaction price. (eg/ more attentive viewers = higher the price).
Your budget is a guideline for matchmaking. It's not the final amount. That's up to you.
How much does it cost to launch my brand?
Signing up for HOLLYFY and launching your brand is FREE.
Add-on features, upgrades and transaction fees help us cover the cost of running of the business.
Can HOLLYFY help me with integrations?
HOLLYFY's concierge service works with you to search for entertainment productions, reach out to entertainment creators whether they're using HOLLYFY yet or not, set your budget and help define the types of integrations optimal for your marketing goals. Simply add the service to any page after signing in by going to add-ons in account settings.
You're always responsible for your budget, so concierge service makes suggestions, and you approve.
What is required of creators before reserving the brand integration?
We ask everyone who uses HOLLYFY for a few pieces of information before they earn verification status. Creators are recommended to have this info filled out before they can take an offer. This info helps make sure you know who to expect, and how to contact the creator.
HOLLYFY's requirements for verification include:
• Full name
• Email address
• Confirmed phone number
• LinkedIn verification
• Agreement to terms of use
• Payment information
Creators are expected, but not required, to have a verified account. You may also require creators to provide verification before confirming the brand integration.
Get brands inside entertainment scenes.