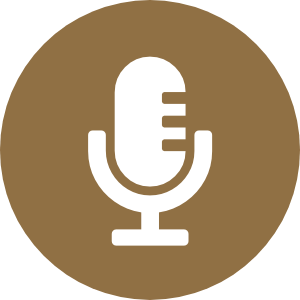 Podcast Influencer Marketing
Collaborate with Podcast Influencers.
For Advertisers
Collaborate with podcasters.
Learn More ›
For Influencers
Fund content creation with brand integrations.
Learn More ›
How Does Influencer Marketing Work on Podcasts?
Podcast influencer marketing campaigns are centered around podcasters making, sharing, and streaming interviews that will in some way promote a brand and make it appealing to their audience. The more engaging the interviews, the better they resonate. These interviews are usually lengthy, sometimes for hours.
Why Brands Should Use Podcasts?
Podcasts have grown in popularity in recent years. Many podcasters cover special niche subject matters where focus their expertise. Some interview a wide array of subject matter experts in different fields, while others hone their podcasts to very specific topics. (eg/ social trends, science, tech gadgets, history, crypto, health & fitness, automotive, beauty tips, etc.)
Podcast influencers on different platforms:
YouTube
Spotify
Apple Podcasts
Google Podcasts

Stitcher

TuneIn
Popular Topics:
Comedy
News
True Crime
Sports
Health / Fitness
Productivity
Finances
Game Show
Pop Culture
Scripted Drama
While users expect to see quick content from other social media influencer, podcasts go much deeper. Lean into themed interviews with Podcast influencers.
Selecting the Right Podcasters for Your Brand
The key to success on Podcasts is working with influencers whose audiences matches your target market. Podcasters who appeal to and influence the behavior of your target customers. Always remember, relevance is more important than reach. Don't merely opt for Podcast influencers with the most massive audience – go for those with the most suitable audiences for your goals.
Once you've selected suitable podcasters, you will need to contact them and form a partnership. Some are easier to work with than others. You'll want to ensure that any deal is acceptable to your podcasters. Most want to know if there is something in it for them, and if the collaboration helps their audience.
Don't give your podcasters a verbatim script. A core feature of Podcast influencer marketing is natural storytelling and compelling content in a longer, natural format. Give your podcasters enough flexibility to tell your story to their fans in a way that feels authentic. A podcasters' audience will instantly know if the segment promoting your products is made in a different style to their usual segments, and they are likely to react badly.
Making a Brief for Podcast Influencers
Don't restrict them too much — the best Podcasters have their own voice, and by stifling that, sponsored content won't resonate with their audience. Instead, go for overarching themes — share the campaign's main goal and select bullet points you want them to convey. But, ask them to interpret this how they see fit.
Get permission to reshare — explicitly state that your brand has the right to repurpose their content for marketing across other platforms for a specified time frame (eg/ 6-12 months).
Specify your deliverables — do you want just one segment? Is the segment going to be an interview, a scripted narrative, a product review, a business discussion, tech conversation, insider information, or a comedic skit? Be clear about your expectations.
For a more in-depth look at Podcast influencer resources, check out our Influencer Marketing Resources here.
Getting started with Influencer Marketing on Podcasts
HOLLYFY helps brands unlock instant branded content from talented and influential creators who already use and love their products.
HOLLYFY
Collaboration Platform
Influencer Marketing & Product Placement