Advertising has Evolved.
Evolve your Advertising Agency
Attentive audiences are difficult to reach with interruptive advertising techniques. Branded entertainment / product placement cuts thru the clutter. Boost brand awareness, modify public perception, and harness brand relevance. Add branded entertainment into your marketing mix.
Manage multiple clients & brands: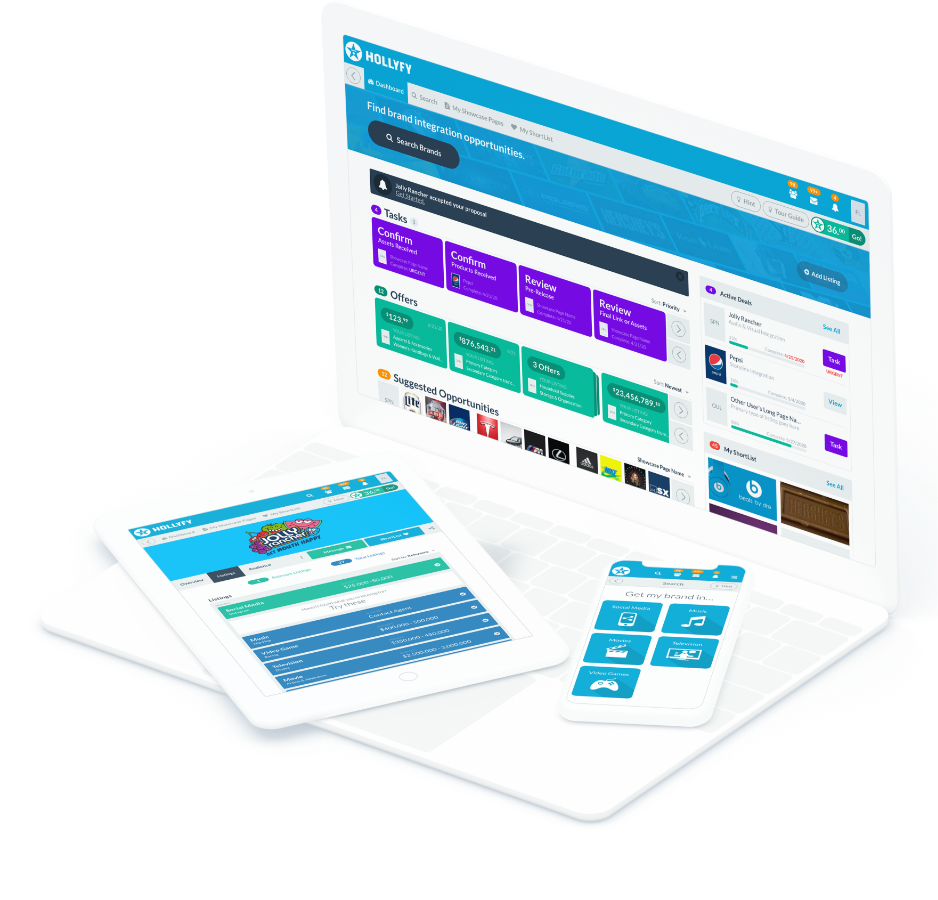 Ad Agencies Access Entertainment Creators
Manage Multiple Brands
Enterprise plan was built to enhance advertising agencies. Empower your firm with capabilities to manage multiple clients each with various advertising goals.
Set your Budget Range
Choose how much a brand integration is worth to elevate your client's brand awareness. Need help? We have tools and services to help you meet your advertising objectives.
Get Relevant Matches
Machine learning matches the listings, audience and content for each brand with relevant entertainment creators. Simply add details.
Boost Brand Awareness
Celebrities, influencers, product placement and branded content propel brand's into cultural zeitgeist. Easily get branded entertainment at scale across multiple forms of entertainment without middlemen.
Generate Word-of-Mouth
Amplify the talk value of every brand you manage. Get multiple entertainment properties to talk about your brand in their upcoming productions.
Negotiate on your Terms
Collaborate with entertainment creators, review/approve the deal, use our helpful tools, tasks, tips, hints, and assistance to make it easier.
Harness the Influence of Entertainment
Boost advertising campaigns with influencers, music videos, TV shows, movies, video games, podcasts, song lyrics, even bloggers.
Brand Awareness: Harness the influence of entertainment for your clients. Manage multiple clients remotely in one place, add multiple users to your team, and simplify the process to source, collaborate, track integrations and accept proposals.
Need help? Managed Service ›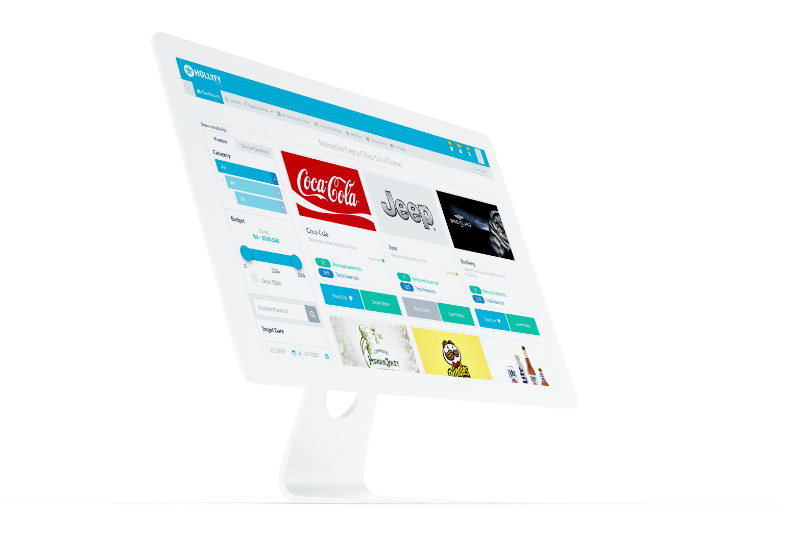 Why Be an Outsider
When You Can Be an Insider
Make your brand part of the storyline so nothing can come between you and your audience. Brand integrations in music videos, influencer content, TV shows, movies, video games, and metaverse content generate word-of-mouth in perpetuity. They're more effective in driving recall, affinity and purchase intent than legacy adverts.
Music Videos

100%

100%

Song Lyrics

100%

100%

TikTok Influencers

100%

100%

Instagram Influencers

100%

100%

YouTube Influencers

100%

100%

Movie Productions

100%

100%

Broadcast TV

100%

100%

Streaming TV

100%

100%

Celebrities

100%

100%

Video Games

100%

100%

Metaverse

100%

100%

Fashion blogs

100%

100%

Travel blogs

100%

100%

Tech blogs

100%

100%
Amplify Ad Campaigns
Support advertising campaigns or use these brand integrations to create new campaigns. Leverage the influence of entertainment to amplify word-of-mouth talk value and influence the cultural zeitgeist surrounding brand perception.
Boost Brand Awareness
HOLLYFY simplifies branded entertainment and advances your advertising marketing mix with next generation features and machine learning.
Wide Range of Entertainment
Open access platform gives you the ability to work with a wider range of entertainment creators from movies to influencers.
Next-Gen Advertising
Attentive audiences and efficacy are paramount for brand consideration, awareness and relevancy. Power multiplier.
FAQ
Your questions answered
For more helpful suggestions, best-practices, optimizations, content guidelines, responsibilites and general knowledge...visit our help center.
Who can be an advertiser?
Got a brand name. You're an advertiser.
It's easy to use HOLLYFY for advertising. Simply launch your showcase page with listings.
Apparel, automotive, beverages, restaurants, CPG (consumer package goods), electronics, sporting goods, e-commerce, jewelry and more are just a few of the brands that have already shared on HOLLYFY.
Marketers & advertisers in numerous industry verticals find branded entertainment a net benefit to drive sales.
Budget range on listings?
Budget range is important.
This helps creators map their audience size/demographics to your marketing goals.
The budget and amount you spend on your integration is completely up to you. To help you decide, use audience size, engagement metrics and demographics to rationalize fair pricing. (eg/ demographics + engagement + size = more budget).
Think of it like buying a house.
Understanding basic budget parameters leads to reaching objectives faster.
Cost of doing business?
Startups and new brands; try Basic (free) plan to get familiar.
Managing established brands, multiple brands (or, you're a power user) upgrade to a professional or enterprise account for more features.
Membership settings (in Account Settings).
What about small businesses?
We've helped thousands of small businesses increase brand awareness.
Less complicated and more effective than traditional advertising.
Start by collaborating with influencers who will feature your brand in and drive engagement (to your website/e-commerce, social accounts, Amazon purchases, or storefronts)
If you need help, try our Managed Service program.
What is required?
We ask everyone who uses HOLLYFY for a few pieces of information before they collaborate. This info ensures both parties know who they're working with, and how to contact each other.
Requirements:
• Profile info
• Email
• Showcase Page with Listings
• Agreement to Terms-of-Use
Suggested (recommended)
• Two-factor authentication
• Phone
• Payment methods
• Profile picture
Empower your Ad Agency
Branded entertainment can transform the capabilites you provide for your clients. Amplify ad campaigns, modify brand perception, change the cultural zeitgeist, mold minds… Match with entertainment creators and expand your marketing ecosystem exponentially.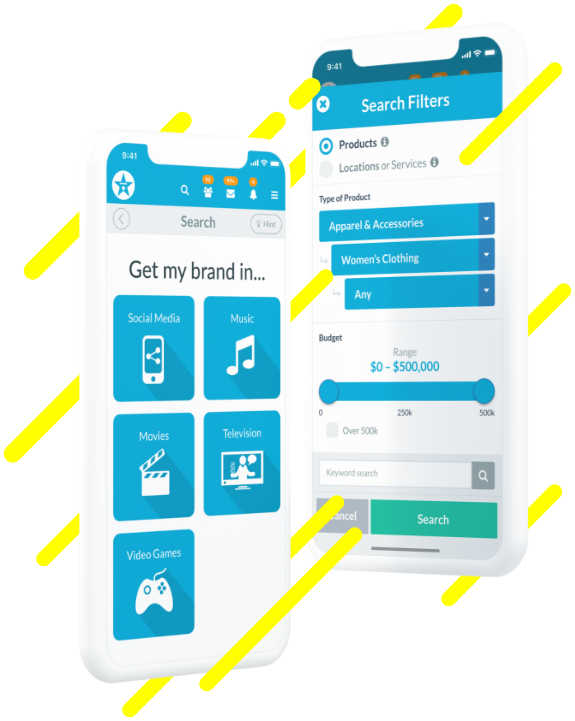 HOLLYFY
MediaTech Collaboration Platform
Influencer Marketing & Product Placement