Fractional Ad Creatives
Big agency talent without the big agency fees.
No Long-Term Contracts  •  No Recruiting Fees  •  100% risk-free

Hire Creative Talent
10 hrs / wk.  •  20 hrs / wk.  •  40 hrs / wk.
Some Brands we've worked for

Talent from Top Ad Agencies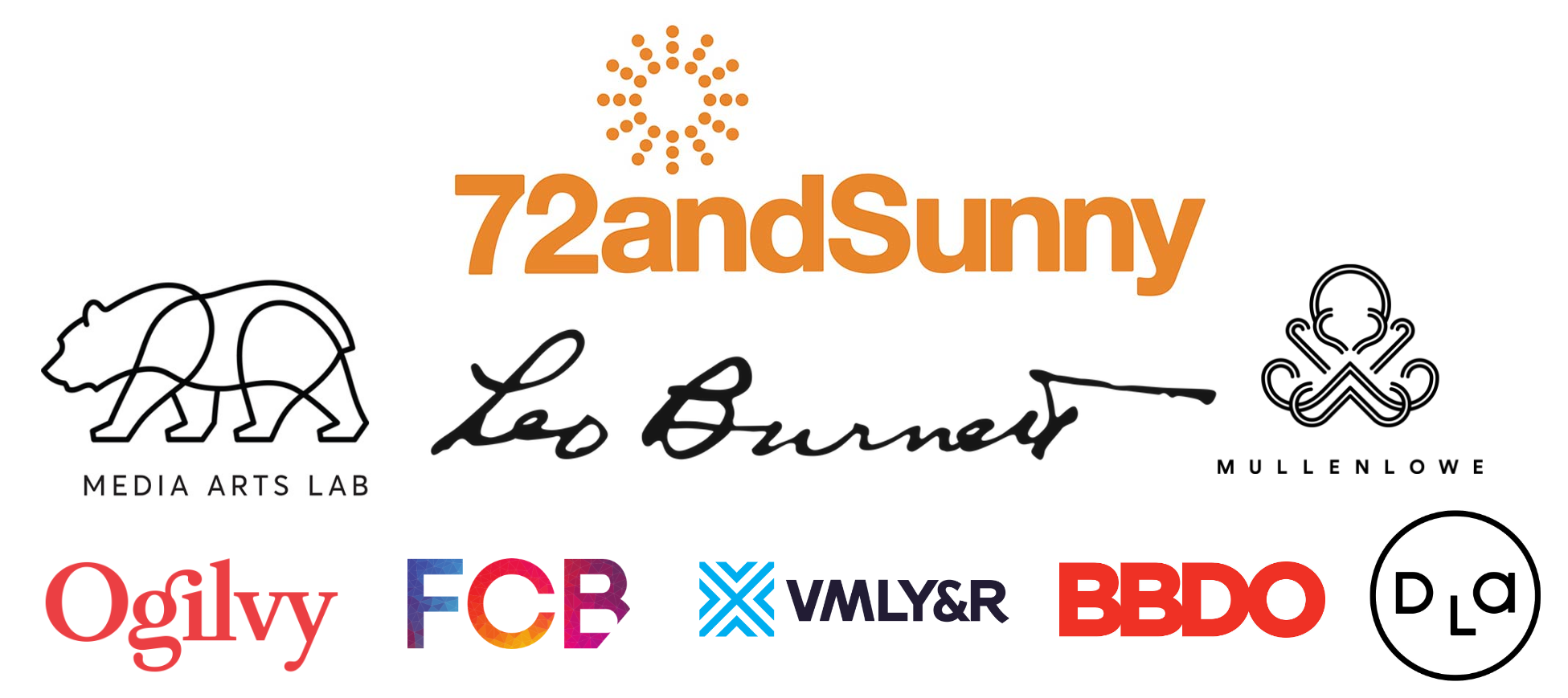 Schedule a Consultation
Free introductory meeting! Let's discuss your advertising objectives, in-house resources, and go-to-market strategy.
Benefits
Advertising professionals for a fraction of cost. You get access to top talent, without the expense or complexity of hiring an ad agency or an in-house creative department.
Weekly On-Demand
Choose how many hours per week you need a creative to contribute to your advertising efforts.
10 hrs/wk • 20 hrs/wk • 40 hrs/wk
Creative Skills
Creatives are skilled in: advertising campaigns, Adobe Creative Cloud, AdWords, WordPress, content creation, web design, copywriting, photoshoots, graphics, style guides, & more.
Our Credentials
Our creatives have worked for the top ad agencies in North America. Across most industry verticals. 360° ad campaigns. They've won several ad industry awards and Super Bowl advertising. 
You Own the IP
You will receive complete IP ownership of all designs, copyrighting, graphics, photoshoots, or other customized assets the creatives complete as part of your engagement.
Pause or Cancel
Customers can pause or cancel their subscription anytime (please give 1-week notice). This allows your to scale your teams with ease. PRO-TIP: Retention enables less onboarding.
Ad Content
Services based on talent skills:
Integrated Campaign Strategy
Headlines/taglines/body copy
INTELLECTUAL PROPERTY: You will receive complete ownership of all the final content produced as part of the engagement.
What's a 'Subscription'?
Subscribe means hiring a person who will work repeatedly on your project week-after-week for designated hours. You can cancel their contract any time from 'Settings'.
All rights reserved. All brand names and logos are the property of their respective owners, are used for identification purposes only, and do not imply affiliation product endorsement.
HOLLYFY
Collaboration Platform
Influencer Marketing & Product Placement