Get Video Games to Feature your Brand
Promote your brand inside upcoming video games to attentive audiences. Amplify word-of-mouth marketing with storyline and visual integration to accelerate brand awareness.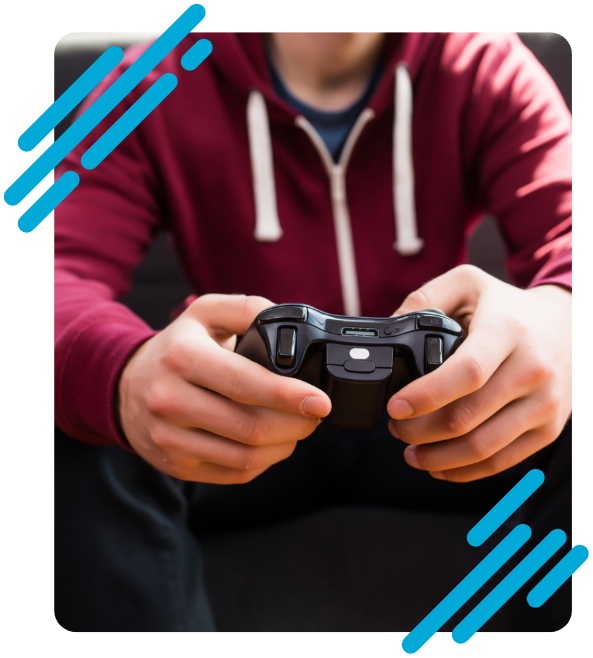 Advertise your Brand
to Attentive Gamers
Brand marketing inside video games has numerous benefits on brand awareness and sales.
Access attentive gamers to give your brand clout and amplify brand affinity and word-of-mouth marketing. This is just on of the video game benefits.
The more games you have promoting your brand, the better chance you have of increasing your relevance within your target audience.
Gamers trust games. When deciding what products to purchase, consumers will often default to what they know and what they've seen.
Modify and harness brand perception by promoting features and benefits of your brand in a new space.
Boost word-of-mouth. Integrating your brand inside video games gives people something to talk about. 
Use your video game brand integration in other traditional advertising campaigns as a point of difference in the marketplace.
Step-By-Step Guide
Launch a page with listings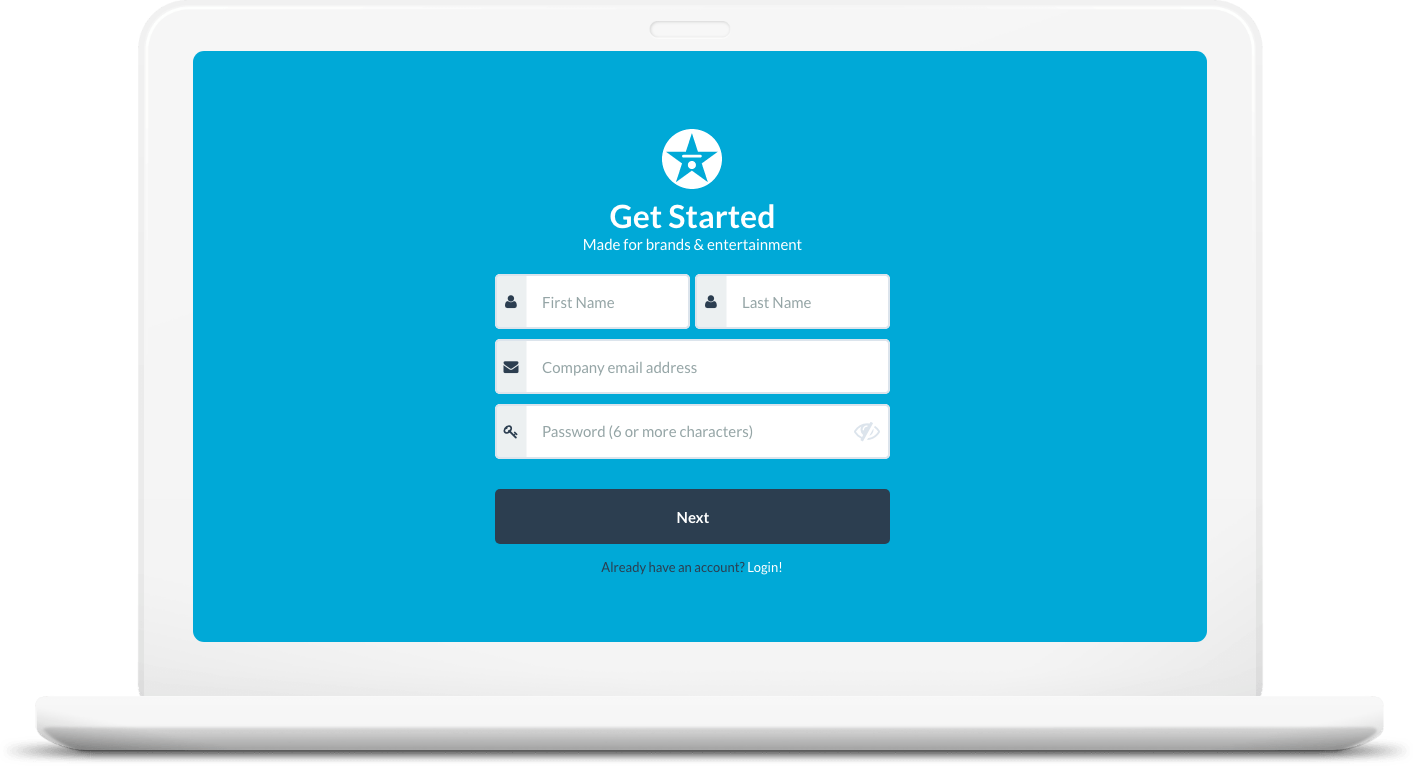 Step 1:
Sign Up
Create an account on the HOLLYFY platform to get started.
Step 2:
Launch a Showcase Page
Since this page will showcase your brand to the community, you'll want to add your brand's logo, brand name, basic info and more.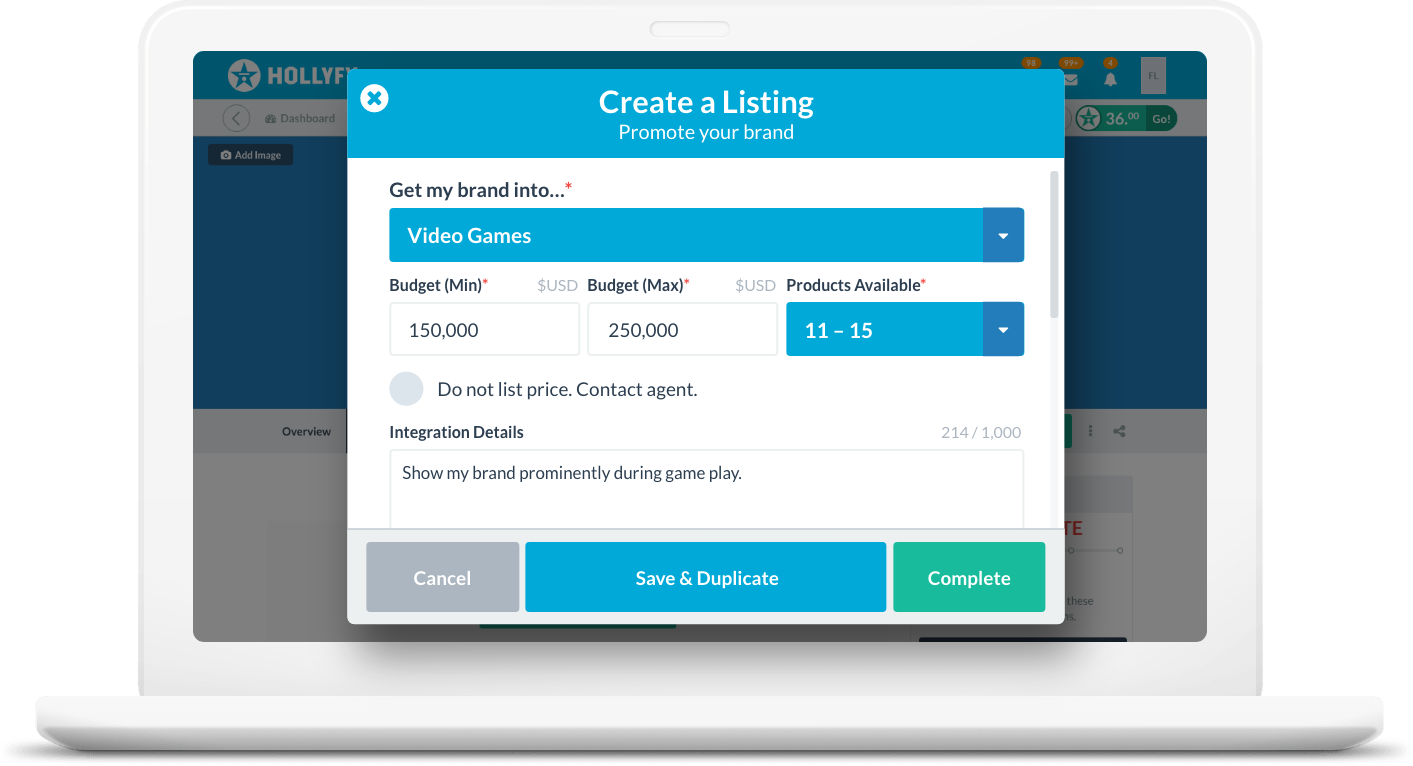 Step 3:
Create a Listing
A listing explains what type of partnership you're interested in. Want to get your brand into a video game? Create a listing that explains that.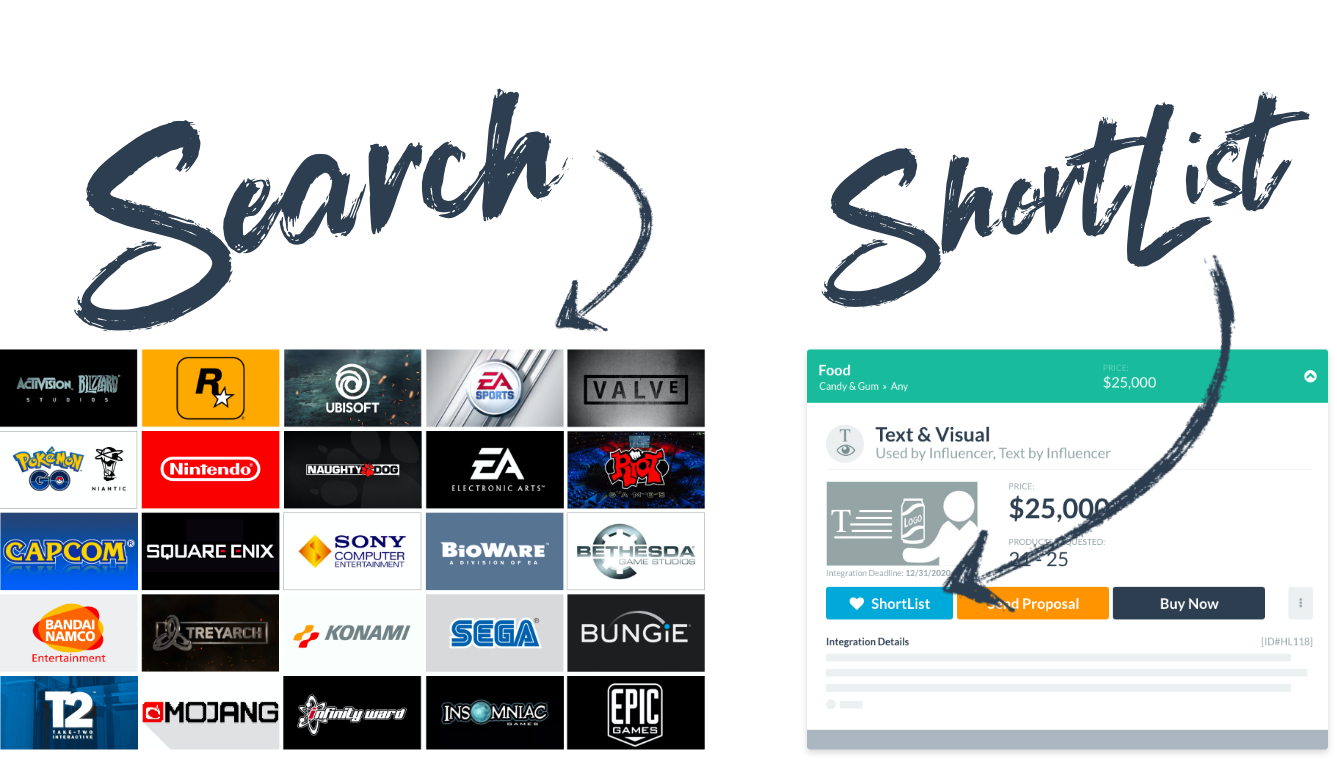 Step 4:
Start Connecting with Video Games
Once you've launched your page with a listing geared towards video games, we'll start matching you with video games on the platform. When you see one you like, you can get the partnership started!
Select genres of video games that appeal to your target market.
Racing Genre
Racing video games cover a wide gamut of driving games from cartoon like racers to ultra-realistic driving. Racing video games are the cheapest way for enthusiasts young and old to get behind the wheel of their dream cars and build a virtual collections. Driving can be on track courses, off-road, street racing, motorcycles, and more.
Brand integrations: Sports cars, off-road trucks, motorcycles, ATVs, auto parts, tires, logo decals, energy drinks, storefronts, billboards.
Examples: Gran Turismo, Forza, Need for Speed, Mario Cart, Overpass, Wreckfest, European Truck Racing…
Sports Genre
Sports video games encompass a wide-range of athletic prowess with large amounts of players. Athletes range from basketball, skateboarding, baseball, American football, soccer, hockey, golf, wrestling, volleyball, bowling…the list goes on. Players get to experience the abilities of the favorite athletes and teams. 
Brand integrations: Athletic shoes, apparel, sporting equipment, headphones, logo decals, energy drinks, beverages, billboards…
Examples: FIFA, Madden NFL, NBA 2K, MLB, WWE, Tony Hawk's Pro Skater…
Shooter Genre
Shooter games have grown exponentially lately with online multiplayer battle royale tournaments and vast world's. This genre often favors hyper realism and includes emotes and player leagues. Whether first-person or third-person, shooter games are action-packed massive worlds with a lot of opportunities for brand integrations.
Brand integrations: Weapons, apparel, electronics, headphones, outdoor gear, logo decals, beverages, storefronts, billboards…
Examples: Fortnite, PUBG, Ghost Recon, Call of Duty, Halo, Battlefield, Titanfall…
Role-Playing Genre
In RPGs, a player controls the actions of a character in a well-defined fantasy or science fiction universe. Players can often do things that are not possible in real life. The aim is usually for the player to complete a series of quests to reach the conclusion of a central storyline. In these environments, character development occurs through narrative elements and storytelling. Most RPGs include comprehensive 3D experiences.
Brand integrations: Apparel, electronics, beverages, sci-fi gear, logo decals, storefronts, billboards…
Examples: Destiny, Final Fantasy, Fallout, World of Warcraft, The Witcher, Star Wars, Cyberpunk…
Fighting Genre
Fighting game genre is typically close combat between a limited number of characters, on a stage where the boundaries are fixed. This allows for intense action, focused attention and fast gameplay. The characters fight each other until they defeat their opponents or the time expires.
Brand integrations: Apparel, beverages, snack food, candy, logo decals, billboards…
Examples: Mortal Combat, Dead or Alive, Street Fighter, Super Smash Bros., Tekken…
Dance Genre
Burn calories, stay fit, and enjoy a fun workout all while having a blast with your favorite songs. Dancing video game genre is a fun way to combine music, video game characters and dance moves all with competitive point ranking. 
Brand integrations: Candy, beverages, snack food, apparel, logo decals, billboards…
Examples: Just Dance (so many versions depending on your favorite music), Persona,…
Simulation Genre
Beyond a very broad definition, simulation games are typically simulated environments constructed and evolved by the player. This encompasses a wide range of environments including creating civilizations, city building, business simulators, lifestyle simulators, and more.
Brand integrations: Storefronts, building supplies, equipment, finance, B2B, logo decals, billboards…
Examples: The Sims, Sid Meier's Civilization, Tropico series, Rollercoaster Tycoon, Flight Simulator, Farming Simulator…
Adventure Genre
Adventure games have been the most story-driven computer game genre for almost 40 years. The player assumes the role of a protagonist in an interactive story driven by exploration and puzzle-solving. This provides scenery changes, character evolution, and a myriad of opportunities for in-game brand integrations.
Brand integrations: Apparel, gear, gadgets, electronics, beverages, apps, logo decals, storefronts, billboards…
Examples: Minecraft, Dying Light, Resident Evil, Grand Theft, Far Cry,…
Upcoming Video Games
Connecting with new video game creators has never been easier. Machine learning matchmaking helps align relevant advertisers with relevant video game creators. It all starts by creating a showcase page for your brand on HOLLYFY. In your page are the key attributes to help you meet your marketing goals: Overview, Listings & Target Audience. You can also search for entertainment opportunities, ShortList your favorites and get served up recommendations.
In addition to our smart, self-service platform you can also choose concierge service to have a personal assistant reach out to game creators and other entertainment creators not currently on HOLLYFY. We're making marketing, media and entertainment production easier than ever.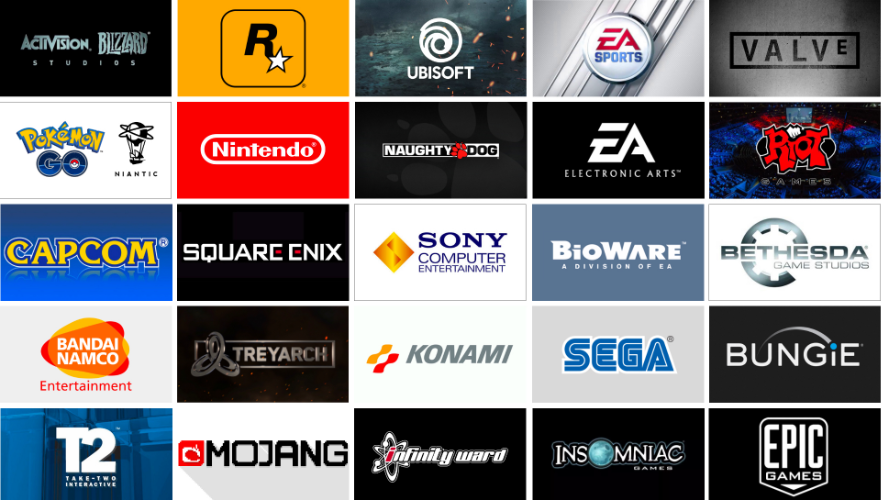 Popular video game studios work with brand marketers. Activision. Blizzard. Rockstar. Ubisoft. EA Sports. Nintendo. Electronic Arts. Riot. Square Enix. Infinity Ward. Epic Games. Fortnite. Minecraft. Treyarch. Valve. Bungie. Pokemon.
How Video Games Integrate Brands
Inside Scenes
From featuring products in storylines, characters in restaurants, wearing apparel or showcasing electronics… video games increase word-of-mouth and boost sales amongst players. This all starts by creating a simple, yet powerful listing.

Storyline integration is weaving a brand's message into the game plot or narrative. Brand is often integral to the story.

Character dialogue mentions brand name inside the gameplay is an easy way to gain brand relevance.

Social media amplification on partners feed helps garner more views and generates traffic for both the brand and the creator.

Rendering of products, apparel, and objects into scenes provides players with a heightened sense of realism.

On-screen signage can be a poster, billboard, mural or vending machine with brand identity and message.

Partnerships inside and outside of video games can amplify marketing and cross promotion in other traditional media.
Benefits of Video Games
Marketing to Attentive Gamers
Get Matched
Video Games Relevant to your Brand
Machine learning helps align your brand with new video game developers and other entertainment productions who want to feature your product, storefront, location, service, etc inside their content. This helps your brand fit seamlessly into the storyline.
Read about machine learning ›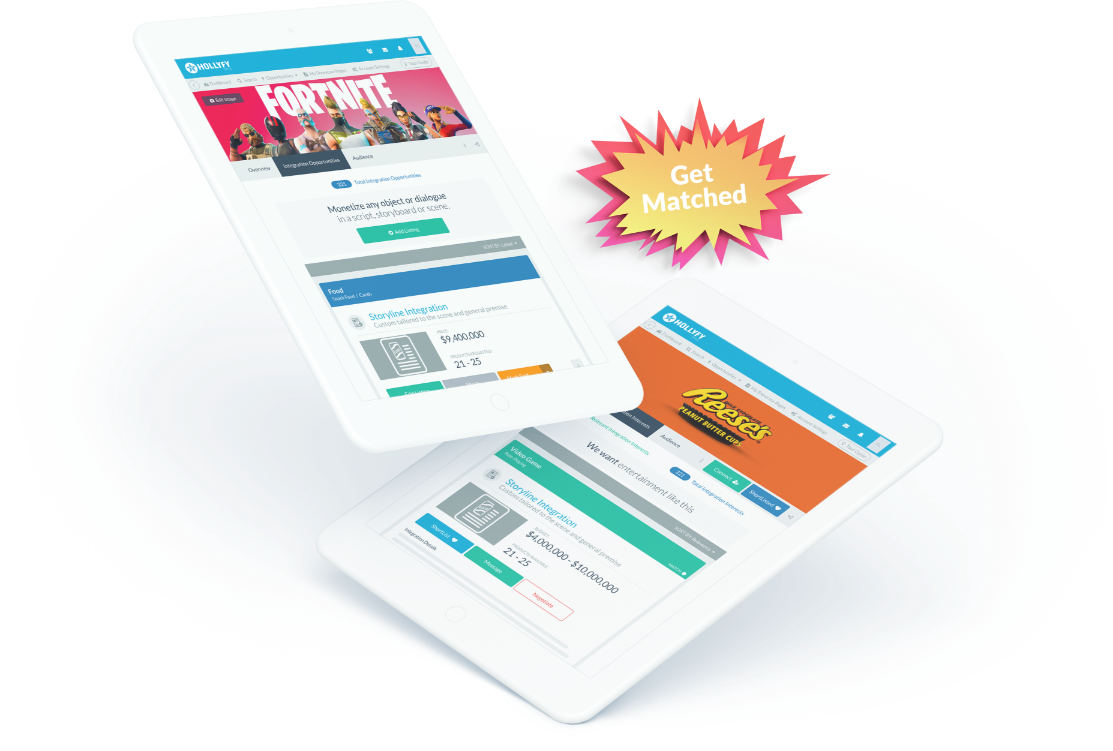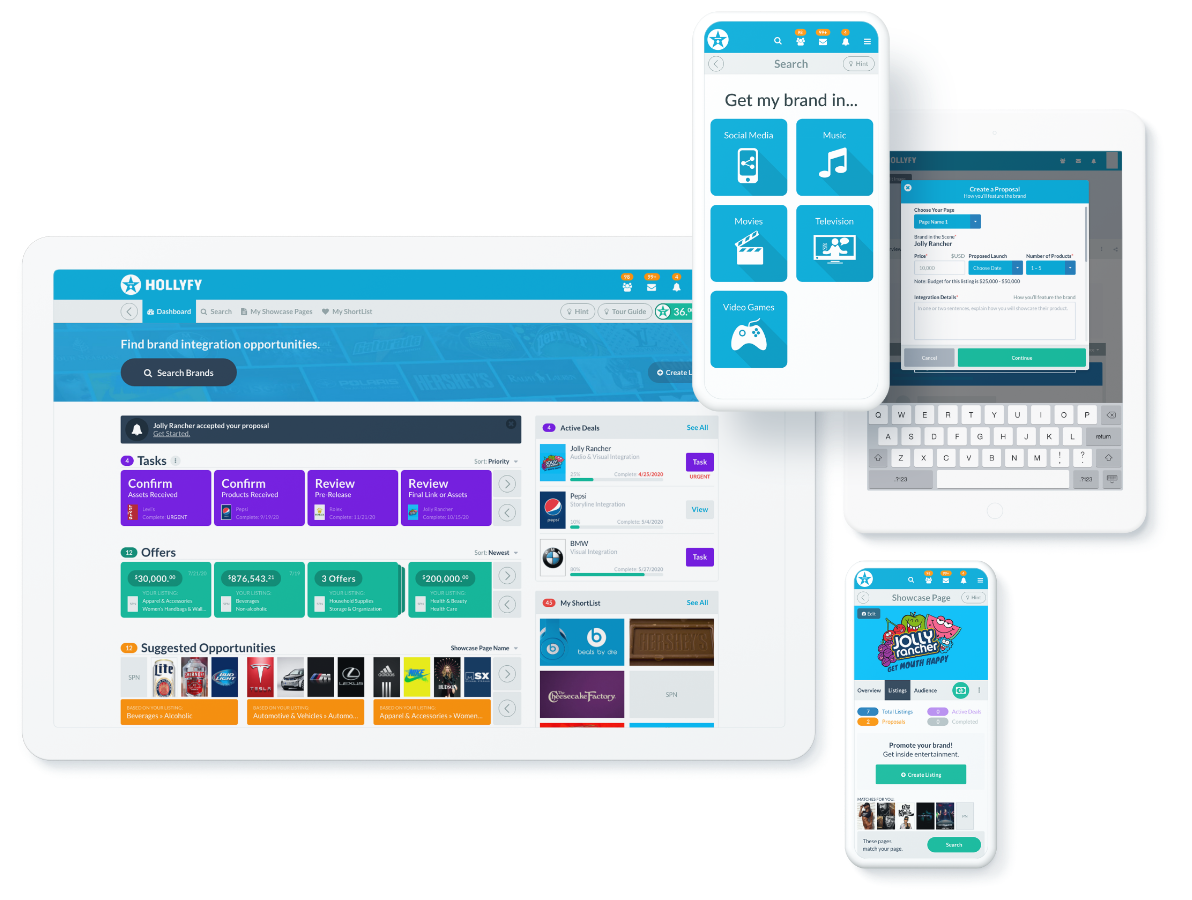 Brands in Video Games
Amplifies Brand Relevance
HOLLYFY is built to be the next-generation marketing and media solution for companies of all sizes.
Everyone can now find, be found and connect with upcoming video game creators and other entertainment creators who are ready to feature your brand in front of their audiences. You no longer need outside agencies. You can just get started. It's easy.
In-Game Marketing. Evolved.
More about Getting Started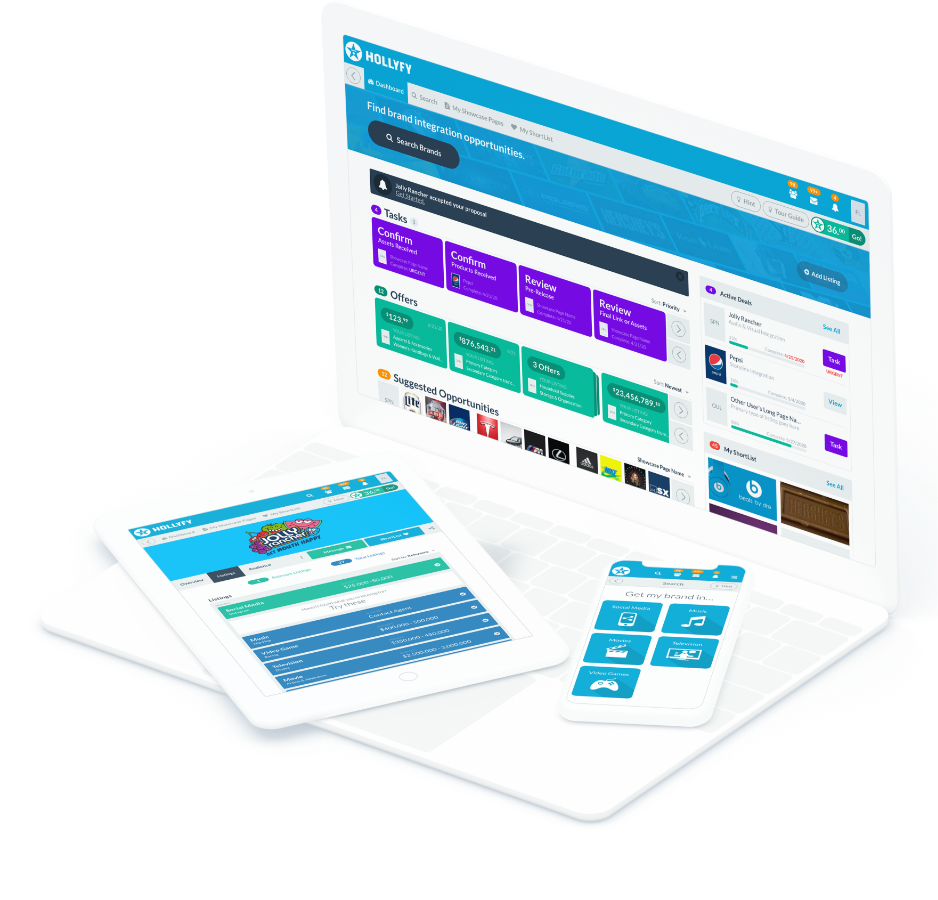 Product Placement in Videos Games
Connecting with video game creators is easier than ever. Simply follow these helpful hints to make the most out of your HOLLYFY experience.
1) Login weekly to your HOLLYFY account.
2) Keep your listings up-to-date.
3) ShortList (favorite) video games and entertainment productions.
Add-Ons
Helpful tools designed to achieve your objectives. Additional listings, page creation, page management, proposals, and more.
Full Service
Want us to do the work for you? Get dedicated SMEs (Subject Matter Experts) who will work with you to manage media budgets. Learn More ›
Want More?
Simply add what you need.
Your questions answered
For more helpful suggestions, best-practices, optimizations, content guidelines, responsibilites and general knowledge...visit our help center.
Who can be an advertiser on HOLLYFY?
It's easy to become an advertiser on HOLLYFY in most areas, and it's free to create an account. Luxury cars, women's apparel, fast food restaurants, headphones, and even chainsaw companies are just a few of the brands who use HOLLYFY.
How should I choose my listing's budget range?
The budget range for your integration listing is completely up to you. To help you decide, you can use the type of integration, audience size, and audience demographics to negotiate a final transaction price. (eg/ more attentive viewers = higher the price).
Your budget is a guideline for matchmaking. It's not the final amount. That's up to you.
How much does it cost to launch my brand?
Signing up for HOLLYFY and launching your brand is FREE.
Add-on features, upgrades and transaction fees help us cover the cost of running of the business.
Can HOLLYFY help me with integrations?
HOLLYFY's concierge service works with you to search for entertainment productions, reach out to entertainment creators whether they're using HOLLYFY yet or not, set your budget and help define the types of integrations optimal for your marketing goals. Simply add the service to any page after signing in by going to add-ons in account settings.
You're always responsible for your budget, so concierge service makes suggestions, and you approve.
What is required of creators before reserving the brand integration?
We ask everyone who uses HOLLYFY for a few pieces of information before they earn verification status. Creators are recommended to have this info filled out before they can take an offer. This info helps make sure you know who to expect, and how to contact the creator.
HOLLYFY's requirements for verification include:
• Full name
• Email address
• Confirmed phone number
• LinkedIn verification
• Agreement to terms of use
• Payment information
Creators are expected, but not required, to have a verified account. You may also require creators to provide verification before confirming the brand integration.
Get brands inside entertainment scenes.