Get TV Shows to Feature your Brand
Marketing your brand inside scenes television series and TV shows is a powerful way to reach an attentive audience. Storyline advertising and visual integration promote brand awareness.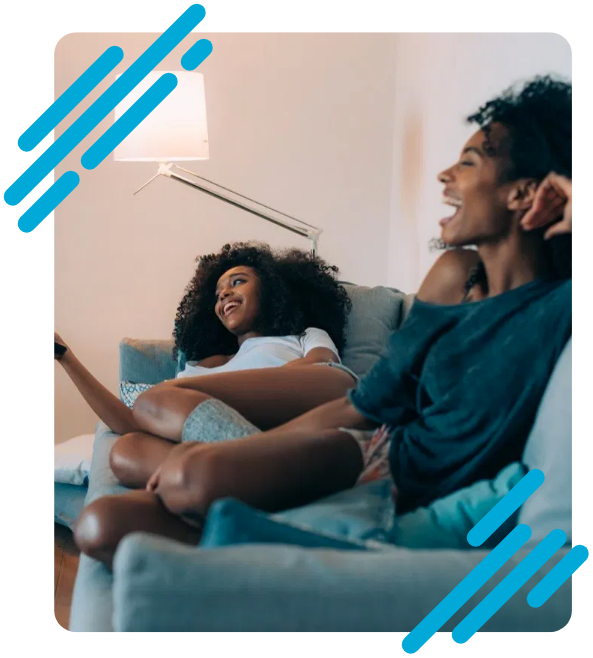 Brand Awareness
& Brand Relevance
Advertise your brand inside TV shows for increased brand awareness, relevance and sales.
Word-of-Mouth. Integrating your brand inside television storylines and scenes gives people something to talk about… and that leads to sales.
Modify and harness brand perception by promoting features and benefits of your brand inside the scenes of TV shows and series.
When TV shows feature your brand, the better chance you have of increasing your relevance within your target audience.
TV shows have propelled brands into consideration for decades. When deciding what products to purchase, consumers will often default to what they know and what they've seen.
Use this brand integration in traditional advertising campaigns as a point of difference in the marketplace.
Step-By-Step Guide
Launch a page with listings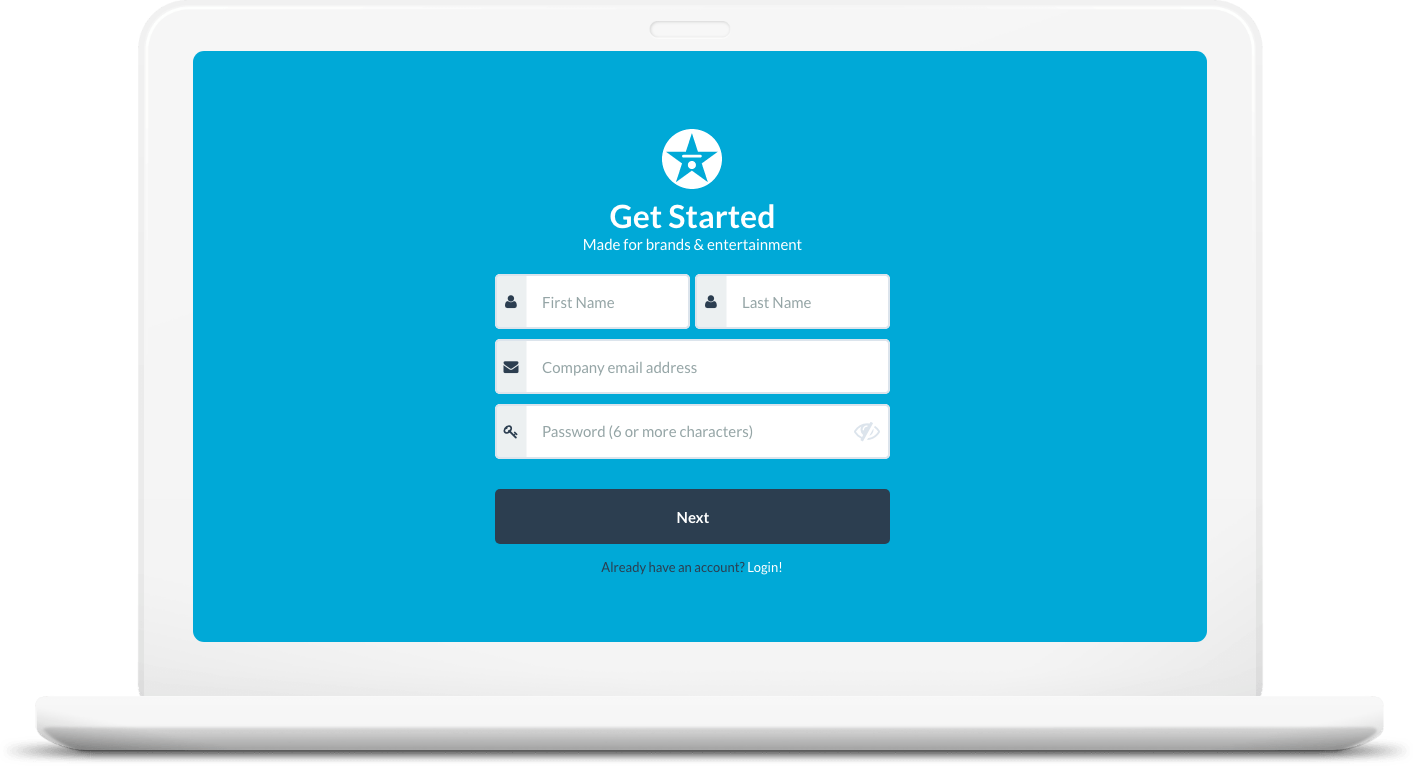 Step 1:
Sign Up
Create an account on the HOLLYFY platform to get started.
Step 2:
Launch a Showcase Page
Since this page will showcase your brand to the community, you'll want to add your brand's logo, brand name, basic info and more.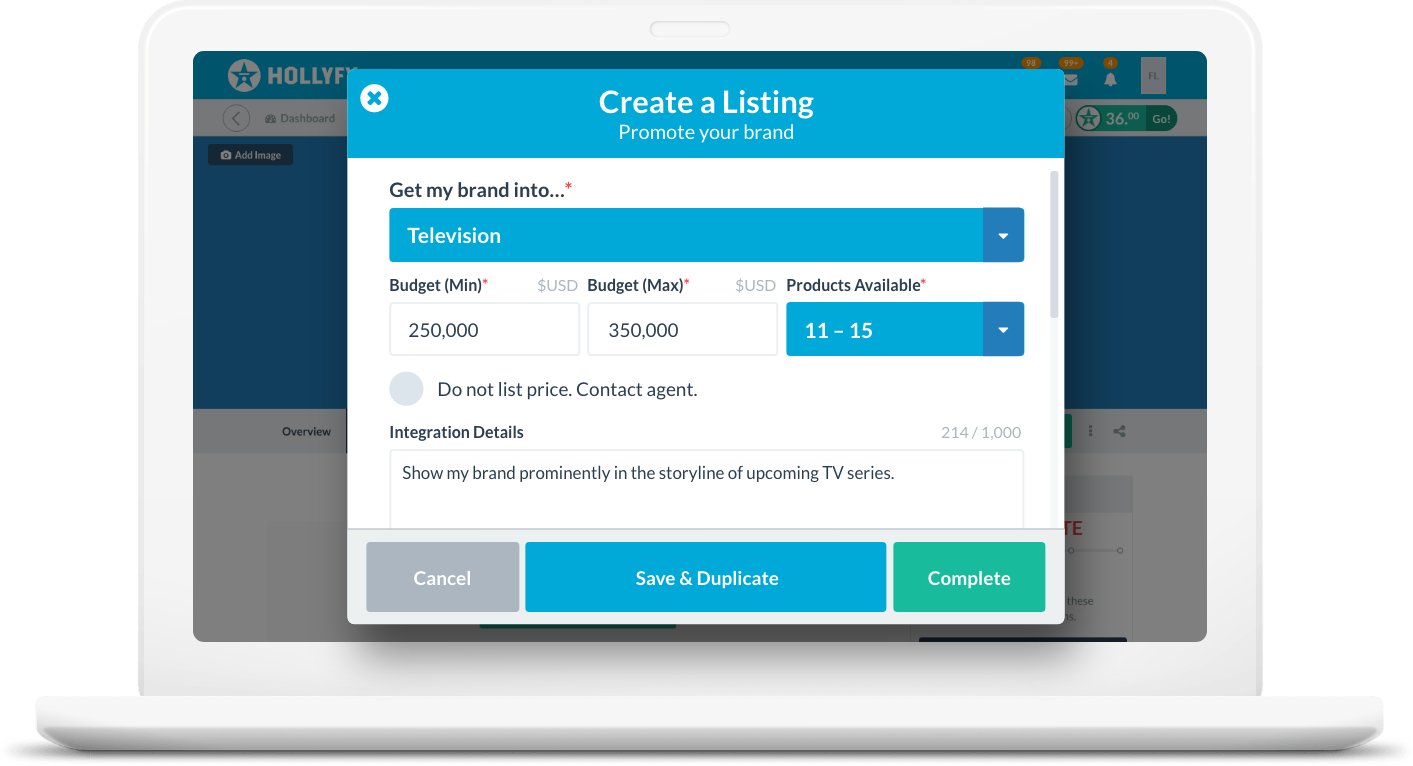 Step 3:
Create a Listing
A listing explains what type of partnership you're interested in. Want to get your brand into a TV show? Create a listing that explains that.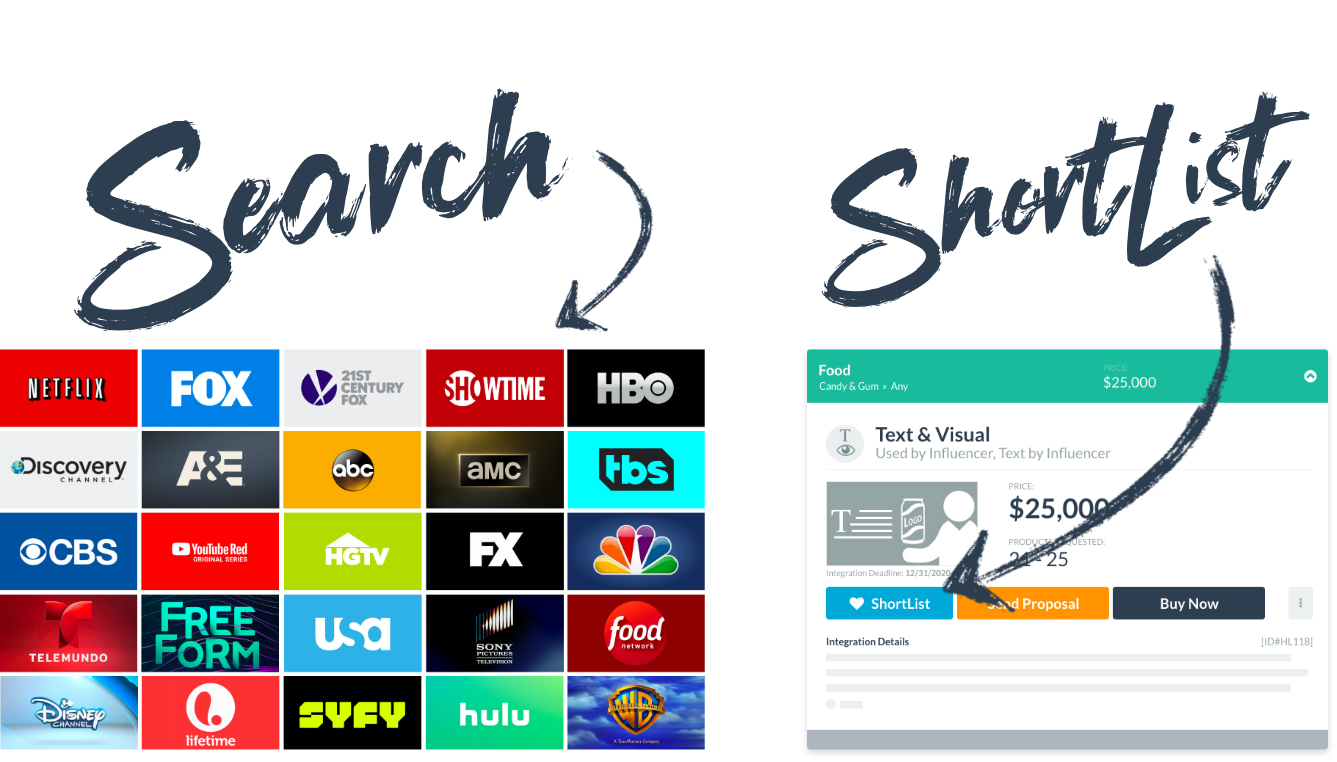 Step 4:
Start Connecting with TV Series
Once you've launched your page with a listing geared towards TV shows, we'll start matching you with TV shows on the platform. When you see one you like, you can get the partnership started!
Select TV show genres that appeal to your target market.
Drama is a genre of narrative fiction (or semi-fiction) intended to be more serious than humorous in tone. In the modern era before the birth of cinema or television, "drama" within theatre was a type of play that was neither a comedy nor a tragedy.
Brand integrations: Apparel, automotive, electronics, restaurants, beverages, furniture, home decor, websites/apps, hotels, travel, health, beauty, household appliances, food, retail stores, business services, non-profits, finance, insurance, household supplies, utilities, tools, lawn/garden…
Examples: Homeland, The Walking Dead, Dr. Who, Big Little Lies, Game of Thrones, Breaking Bad, Downton Abbey,…
Comedy or more often comedy-drama or dramedy, is a genre of dramatic works in which plot elements are a combination of comedy and drama. It is a subgenre of contemporary tragicomedy. Comedy-drama is especially found in television programs and is considered a "hybrid genre".
Brand integrations: Apparel, restaurants, beverages, furniture, household appliances, food, home decor, office supplies, hotels, travel, websites/apps, retail stores, business services, toys,…
Examples: Schitt's Creek, Atlanta, It's Always Sunny In Philadelphia, Barry, Saturday Night Live, Fleabag…
A news program, news programme, news show, or newscast is a regularly scheduled radio or television program that reports current events. News is typically reported in a series of individual stories that are presented by one or more anchors.
Brand integrations: New product features, topical company stories, financial milestones, electronics, business services, software, websites/apps, automotive, real estate, non-profits…
Examples: Cuomo Prime Time, All In with Chris Hayes, MSNBC Live, CNN Tonight, CNBC, Squawk Box, Power Lunch, Mad Money, Fast Money, Tucker Carlson Tonight, The Rachel Maddow Show, Hannity, The Ingraham Angle,…
A game show is a type of television program in which people play a game that involves answering questions or solving problems for money and/or prizes. On some shows contestants compete against other players or another team while other shows involve contestants playing alone for a good outcome or a high score. Game shows often reward players with prizes such as cash, trips and goods and services provided by the show's prize suppliers.
Brand integrations: Household supplies, electronics, food, beverages, health, beauty, household appliances, home decor, dining, furniture, automotive, apparel, travel, dining, hospitality, home services, sporting goods, toys, games, tools, lawn/garden…
Examples: The Price is Right, Hell's Kitchen, Wheel of Fortune, Top Chef, Project Runway, Survivor, American Ninja Warrior, …
A talk show or chat show is a television programming or radio programming genre in which one person discusses various topics put forth by a talk show host. Usually, guests consist of a group of people who are learned or who have experience with whatever issue is being discussed on the show for that episode.
Brand integrations: Apparel, beverages, furniture, electronics, business services, software, websites/apps,…
Examples: Ellen, Good Morning America, Conan, The View, The Tonight Show Starring Jimmy Fallon, Dr. Phil, The Talk, Real Time with Bill Maher, Wendy Williams, Jimmy Kimmel Live!, The Late Late Show with James Corden,…
An animated series (aka cartoon) is a set of animated works with a common series title, usually related to one another. A cartoon can be a satirical or humorous satire expressed in different animated styles from line drawing to 3D rendering. Many kids grow up watching new and classic cartoons on TV. Series can have either a finite number of episodes like a miniseries, a definite end, or be open-ended, without a predetermined number of episodes.
Brand integrations: Toys, games, candy, beverages, snack food, food, apparel, websites/apps, children's goods, education…
Examples: The Simpsons, SpongeBob SquarePants, Rick and Morty, Family Guy, American Dad, BoJack Horseman, Bob's Burgers, Teen Titans Go, Archer, South Park, Robot Chicken,…
Reality television is a genre of television programming that documents purportedly unscripted real-life situations, often starring unknown individuals rather than professional actors. Reality TV is a type of television programming that aims to show how ordinary people behave in everyday life, or in situations, often created by the program makers, which are intended to represent everyday life.
Brand integrations: Apparel, restaurants, beverages, furniture, home decor, hotels, travel, websites/apps, health, beauty, household appliances, food, retail stores, business services, finance, insurance, …
Examples: Bachelorette, Real Housewives, Keeping up with the Kardashians, House Hunters, Deadliest Catch, Life Below Zero…
Soap Operas are the origins of branded entertainment. These daily dramas began to be associated with their advertisers, hence the name "soap opera". The first real soap opera was created by actress Irna Phillips in 1930 called Painted Dreams at radio station WGN in Chicago. It was a 15-minute daily drama involving a family that included a widow and her unmarried daughter. A crucial element that defines the soap opera is the open-ended serial nature of the narrative, with stories spanning several episodes.
Brand integrations: Apparel, food, beverages, furniture, home decor, household appliances, household supplies, restaurants, personal services, home services, utilities, education, non-profits, retail stores…
Examples: Days of our Lives, Coronation Street, The Bold and The Beautiful, All My Children, Grey's Anatomy, General Hospital,…
Marketing in Scenes of TV Shows
Connecting with TV show producers and showrunners has never been easier. Machine learning matchmaking helps align relevant advertisers with relevant productions. It all starts by creating a showcase page for your brand on HOLLYFY. In your page are the key attributes to help you meet your marketing goals: Overview, Listings & Target Audience. You can also search for entertainment opportunities, ShortList your favorites and get served up recommendations.
In addition to our smart, self-service platform you can also choose concierge service to have a personal assistant reach out to TV show producers and other entertainment creators not currently on HOLLYFY. We're making marketing, media and entertainment production easier than ever.
Coffee cup in 'Game of Thrones' worth billions to Starbucks ›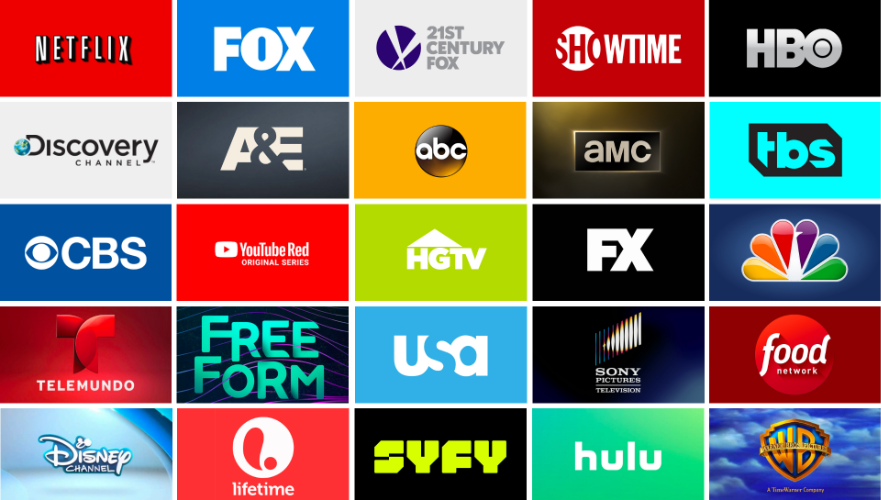 Netflix. 
YouTube TV. HBO. Cable TV. Broadcast TV. Primetime TV. Smart TV. ABC. AMC. TBS. NBC. CBS. HGTV. FX. Showtime. TBS. A&E. Discovery. Disney… and more.
How TV Shows Integrate Brands
Inside Scenes
From featuring products in storylines, character dialogue, inside restaurants, wearing apparel or showcasing electronics… TV shows increase word-of-mouth and boost sales. This all starts by creating a simple, yet powerful listing.

Storyline integration is weaving a brand's message into the show plot or narrative. Brand is often integral to the story.

Character dialogue mentions brand name inside the TV show or series is an easy way to gain brand relevance.

Social media amplification on partners feed helps garner more views and generates traffic for both the brand and the TV show creator.

Placing of products, apparel, and objects inside scenes provides viewers with a heightened sense of realism.

On-screen signage can be a poster, billboard, storefront or vending machine with brand identity and message.

Partnerships inside and outside of the series can amplify marketing with advertising campaign integration across traditional media.
Increased Advertising Efficacy
Prominence in Scenes
Get Matched
with TV Shows Relevant to your Brand
Machine learning helps align your brand with the TV shows and other entertainment productions who want to feature your product, storefront, location, service, etc inside their content. This helps your brand fit seamlessly into the storyline. Smart TV.
Read about machine learning ›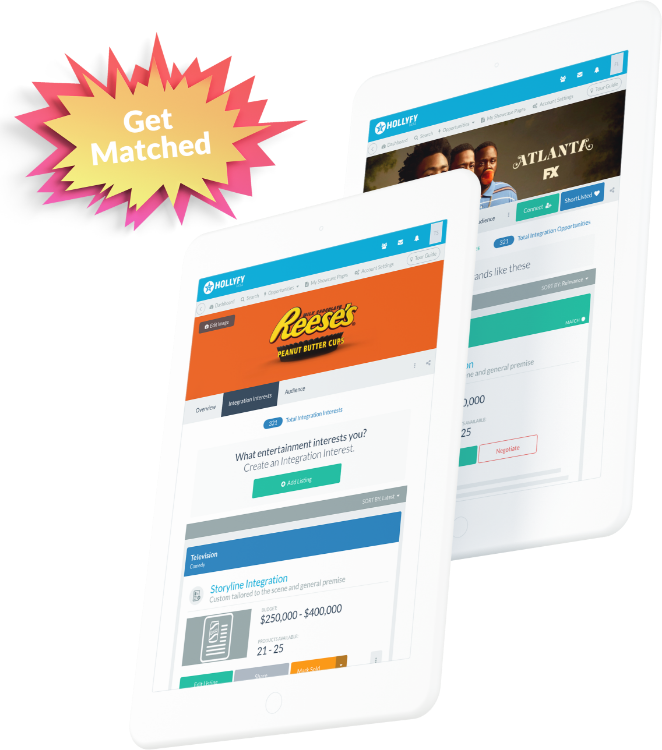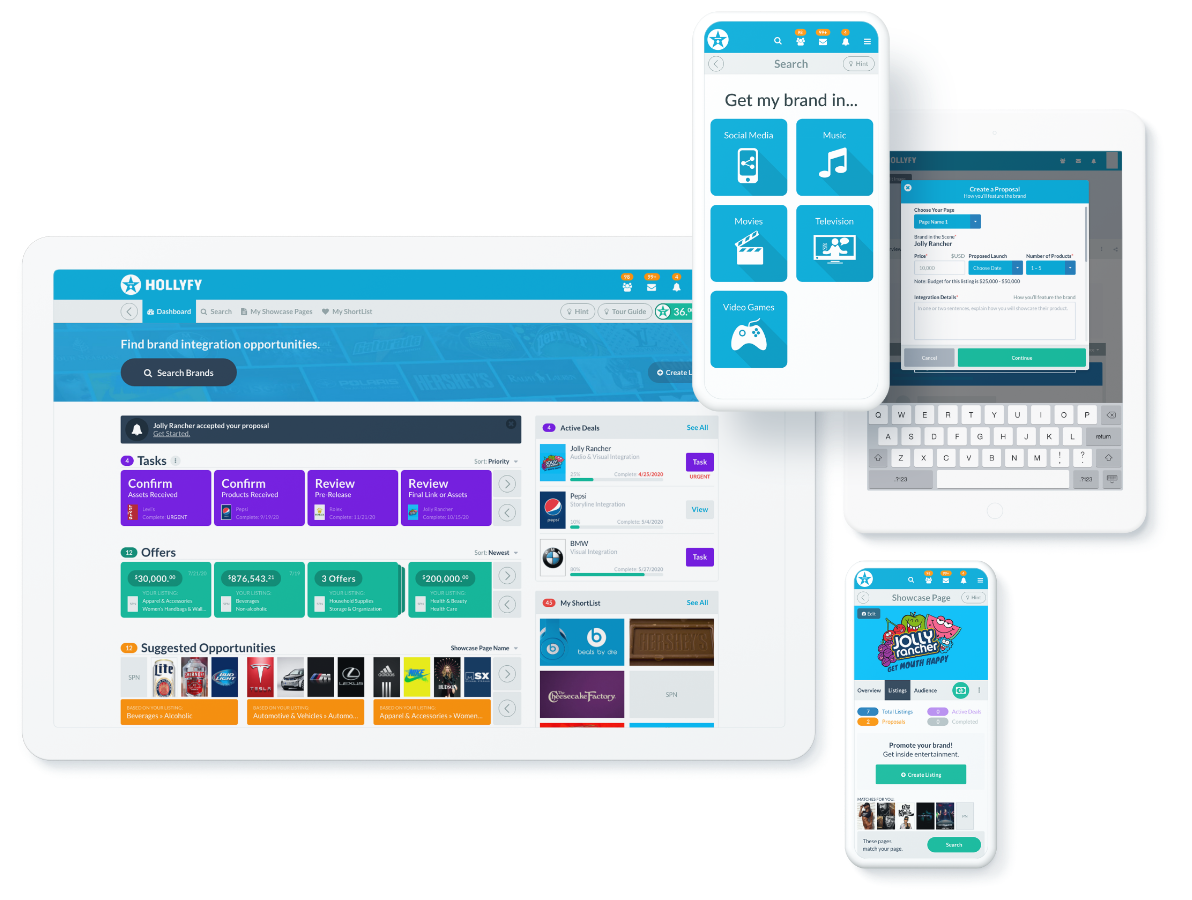 Marketing Dashboard
Track Integration in TV Shows
HOLLYFY is built to be the next-generation marketing and media solution for companies of all sizes.
Everyone can now find, be found and connect with TV shows and other entertainment creators who are ready to feature your brand in front of their audiences. You no longer need outside agencies. You can just get started. It's easy.
More about Getting Started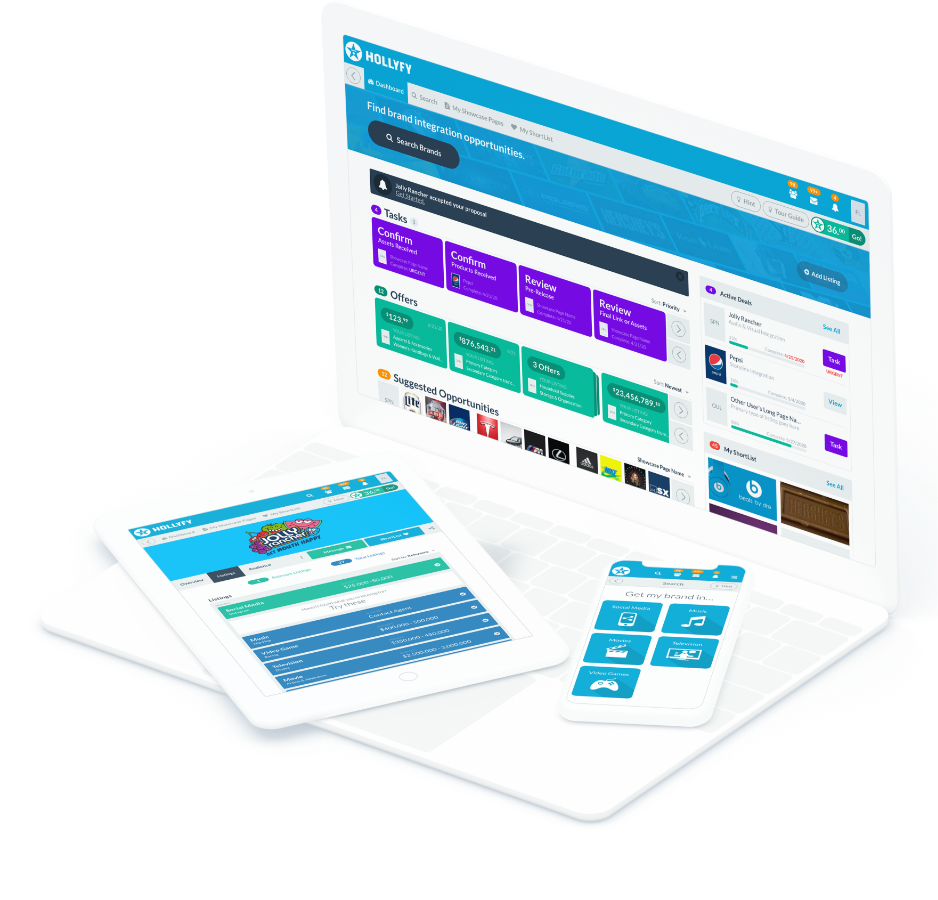 Product Placement in TV Shows
Connecting with TV shows is easier than ever. Simply follow these helpful hints to make the most out of your HOLLYFY experience.
1) Login weekly to your HOLLYFY account.
2) Keep your listings up-to-date.
3) ShortList (favorite) TV shows and entertainment productions.
Add-Ons
Helpful tools designed to achieve your objectives. Additional listings, page creation, page management, proposals, and more.
Full Service
Want us to do the work for you? Get dedicated SMEs (Subject Matter Experts) who will work with you to manage media budgets. Learn More ›
Want More?
Simply add what you need.
Your questions answered
For more helpful suggestions, best-practices, optimizations, content guidelines, responsibilites and general knowledge...visit our help center.
Who can be an advertiser on HOLLYFY?
It's easy to become an advertiser on HOLLYFY in most areas, and it's free to create an account. Luxury cars, women's apparel, fast food restaurants, headphones, and even chainsaw companies are just a few of the brands who use HOLLYFY.
How should I choose my listing's budget range?
The budget range for your integration listing is completely up to you. To help you decide, you can use the type of integration, audience size, and audience demographics to negotiate a final transaction price. (eg/ more attentive viewers = higher the price).
Your budget is a guideline for matchmaking. It's not the final amount. That's up to you.
How much does it cost to launch my brand?
Signing up for HOLLYFY and launching your brand is FREE.
Add-on features, upgrades and transaction fees help us cover the cost of running of the business.
Can HOLLYFY help me with integrations?
HOLLYFY's concierge service works with you to search for entertainment productions, reach out to entertainment creators whether they're using HOLLYFY yet or not, set your budget and help define the types of integrations optimal for your marketing goals. Simply add the service to any page after signing in by going to add-ons in account settings.
You're always responsible for your budget, so concierge service makes suggestions, and you approve.
What is required of creators before reserving the brand integration?
We ask everyone who uses HOLLYFY for a few pieces of information before they earn verification status. Creators are recommended to have this info filled out before they can take an offer. This info helps make sure you know who to expect, and how to contact the creator.
HOLLYFY's requirements for verification include:
• Full name
• Email address
• Confirmed phone number
• LinkedIn verification
• Agreement to terms of use
• Payment information
Creators are expected, but not required, to have a verified account. You may also require creators to provide verification before confirming the brand integration.
Get brands inside entertainment scenes.