Future of Marketing is

Branded Entertainment
Evolution of marketing: Martech. Contextual brand integrations feature brands relevant to the content and amplify traditional advertising campaigns.
Hire our Subject Matter Experts.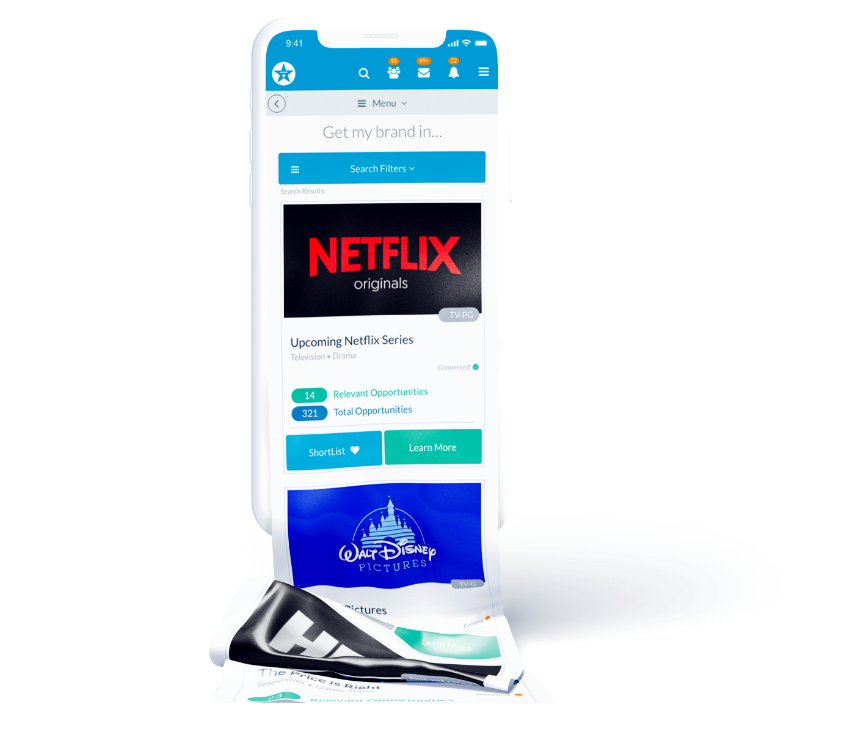 Future of Marketing Technology
Technology is changing marketing and advertising at a staggering rate. Many brands, especially smaller ones, are finding it difficult to keep up with new tools of marketing automation, artificial intelligence or even the ever-expanding realm of branded entertainment. There's also never been a more exciting time to be in marketing. These new technologies, trends, and consumer behaviors are transforming the industry at breakneck speed, creating exponential opportunities for those who are able to keep up — or better still, leap ahead of the curve.
Harness the influence of entertainment with 

brand integrations.

 
Entertainment has always infuenced the types of clothing we wear, vehicles we drive, electronics we use, beverages we drink, hotels we visit, food we eat, home decor we enjoy and even the products we buy for our children.
Get brands inside entertainment scenes.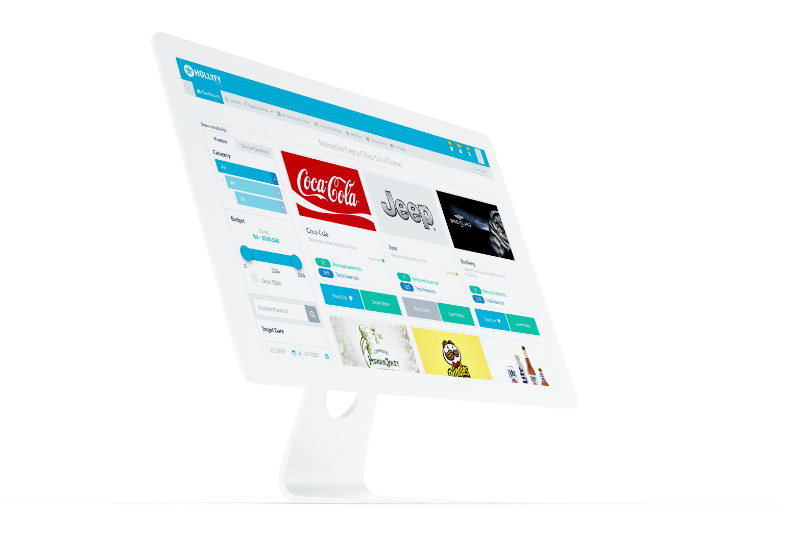 Why Be an Outsider
When You Can Be an Insider
Make your brand part of the storyline so nothing can come between you and your audience. Brand integrations in TV, movies, song lyrics, music videos and influencer posts generate word-of-mouth in perpetuity. They're more effective in driving recall, affinity and purchase intent than skippable commercial adverts.
Movie Productions

100%

100%

Broadcast TV

100%

100%

Streaming TV

100%

100%

Video Games

100%

100%

Music Videos

100%

100%

Song Lyrics

100%

100%

Concerts

100%

100%

Celebrities

100%

100%

YouTubers

100%

100%

Instagram

100%

100%

Twitter

100%

100%

Facebook

100%

100%

Snapchat

100%

100%

LinkedIn

100%

100%

Fashion blogs

100%

100%

Travel blogs

100%

100%

Tech blogs

100%

100%
Smart Advertising
Attentive audiences and efficacy are paramount for brand consideration, awareness and relevancy. Partnerships are an exponential multiplier.
Wide Range of Entertainment
Open access system gives you ability to work with entertainment productions from blockbuster movies to specialized influencers.
Powered by Amazon & Google
Powerhouse capabilities like machine learning, secure messaging, integration tracking, matchmaking, privacy settings and more give you control with the ease of the world's leading technology platforms.
Future of Marketing is here
HOLLYFY simplifies media buying inside entertainment content and advances the advertising model with next generation features.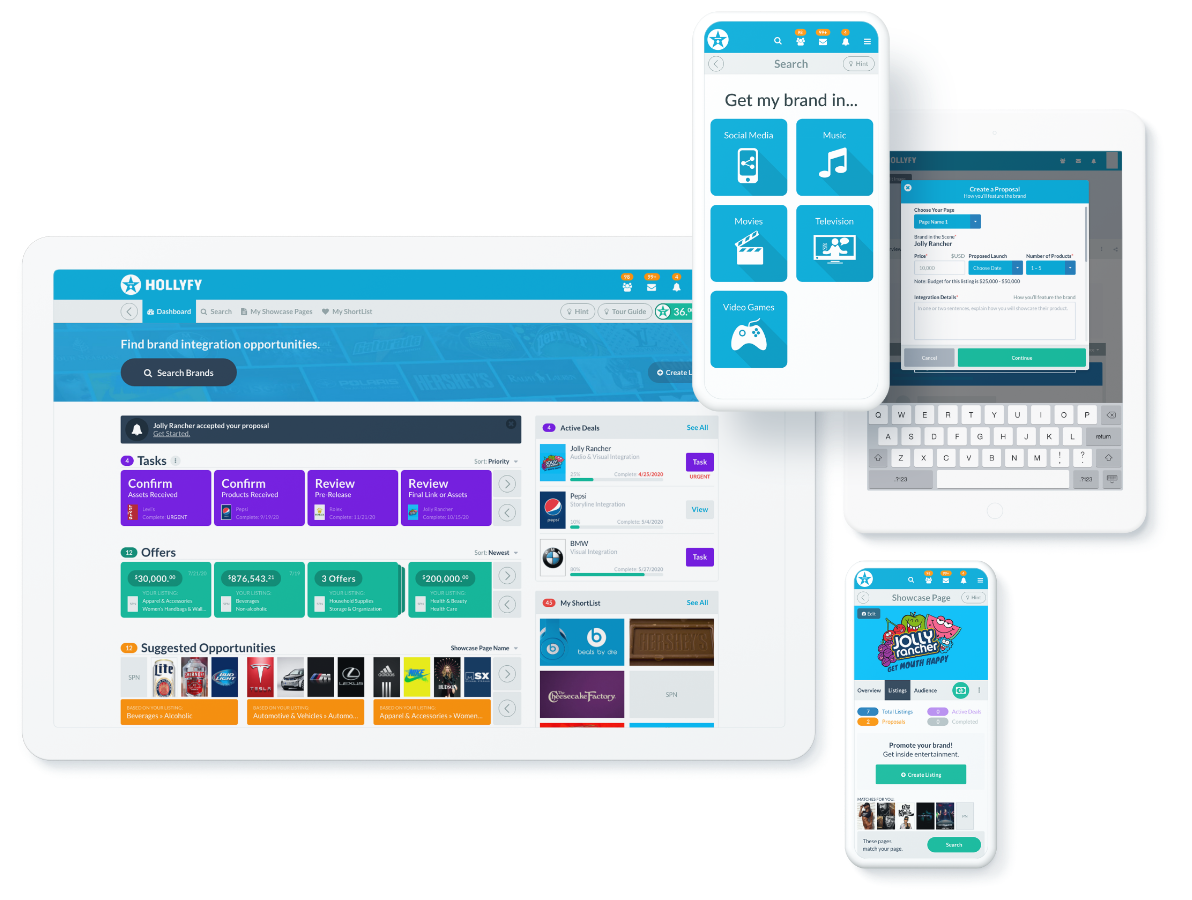 Set your budget range
Choose how much a brand integration is worth for your brand awareness. Need help? We have tools and services to help you meet your advertising objectives.
Pay low fees
Pay as you go. HOLLYFY charges for upgrades and add-on services. Our payment processing is fast, efficient and cost-effective. 
Negotiate on your terms
Once you and an entertainment creator approve the deal, we provide helpful tools, payment processing and task completion features. 
More about Getting Started
Your questions answered
For more helpful suggestions, best-practices, optimizations, content guidelines, responsibilites and general knowledge…visit our help center.
Who can be an advertiser on HOLLYFY?
It's easy to become an advertiser on HOLLYFY in most areas, and it's free to create an account. Luxury cars, women's apparel, fast food restaurants, headphones, and even chainsaws are just a few brands who have shared on HOLLYFY.
How should I choose my listing's budget range?
The budget range for your integration listing is completely up to you. To help you decide, you can use type of integration, audience size, and audience demographics to negotiate final transaction. (eg/ more attentive viewers = higher the price).
How much does it cost to list my brand?
Signing up for HOLLYFY and listing your brand is FREE.
Add-on features, upgrades and transaction fees help us cover the cost of running of the business.
Can HOLLYFY help me with integrations?
HOLLYFY's concierge service works with you to set your budget and types of integrations for optimal results. Simply add the service to any page after signing in.
You're always responsible for your budget, so concierge service makes suggestions, and you can adjust term any time.
Learn about Concierge Service ›
What is required of creators before reserving the brand integration?
We ask everyone who uses HOLLYFY for a few pieces of information before they earn verification status. Creators are recommended to have this info filled out before they can take an offer. This info helps make sure you know who to expect, and how to contact the creator.
HOLLYFY's requirements for verification include:
• Full name
• Email address
• Confirmed phone number
• LinkedIn verification
• Agreement to terms of use
• Payment information
Creators are expected, but not required, to have a verified account. You may also require creators to provide verification before confirming the brand integration.
Each time you login and use HOLLYFY you'll discover new ways to market your brand and earn reward credits to boost your score.