Adverts Evolved.
Evolve your Advertising Agency.
Advertising has evolved and so are advertising agencies. Use branded entertainment to amplify ad campaigns. Boost brand awareness, modify public perception, and harness brand relevance. Build branded entertainment into your marketing mix.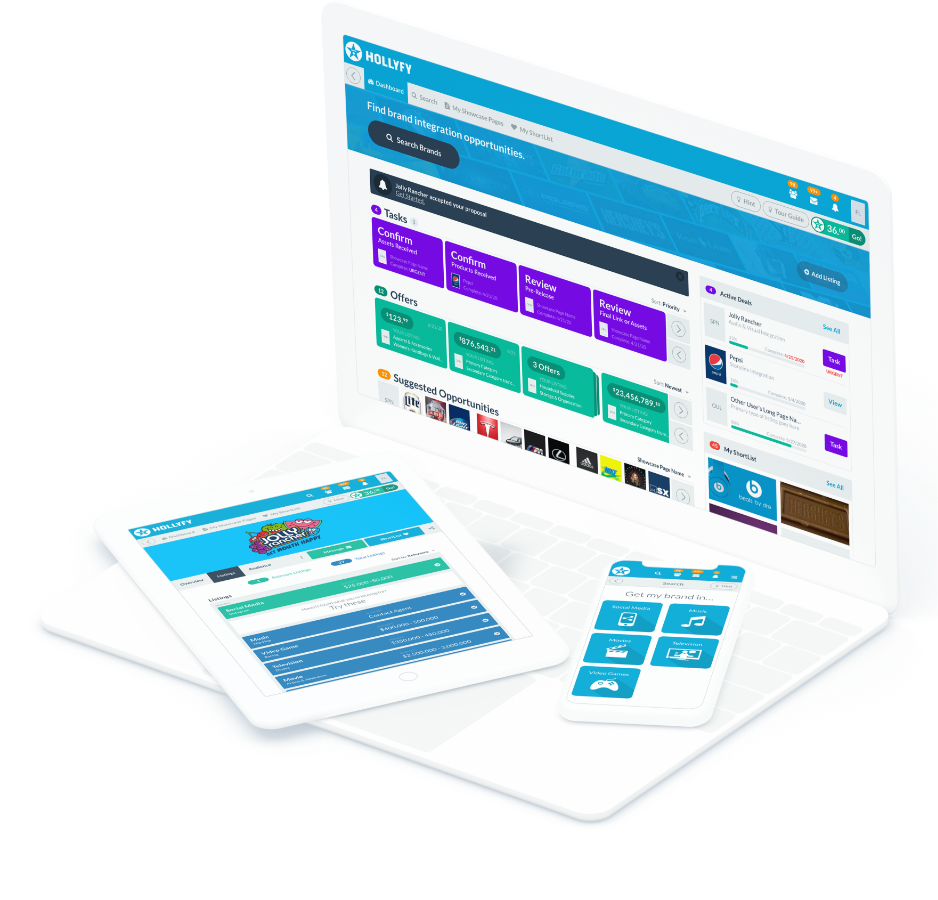 Amplify your Advertising Campaigns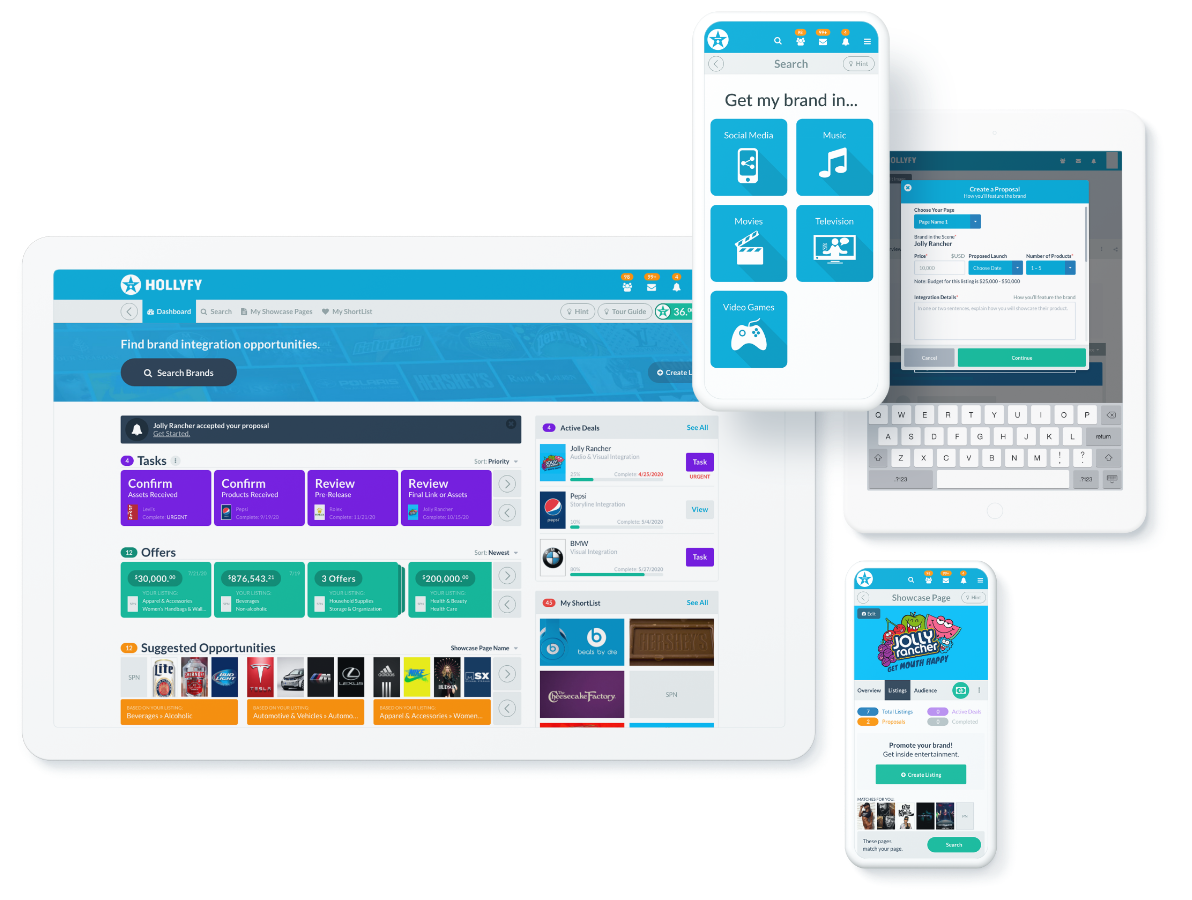 Connect your advertising campaigns with relevant influencers, TV shows, movies, video games, music videos, song lyrics, even bloggers.
Clients want it all: Great opportunities! Get featured in popular productions. Results that hit their target market and move the sales needle. HOLLYFY combines the power of mass media to let you harness the influence of entertainment for your clients. It's powerful enough to let you manage multiple clients in one place and easy enough for anyone in your organization to make offers, track integrations and accept proposals.
Manage Multiple Brands
Our business and enterprise plan were desinged for advertising agencies. This allows your agency to manage multiple clients with multiple advertising needs.
Set your Budget Range
Choose how much a brand integration is worth for your client's brand awareness. Need help? We have tools and services to help you meet your advertising objectives.
Relevant Matches
Machine learning matches the listings and content for each brand with relevant entertainment creators. Simply add details.
Boost Ad Campaigns
Leverage the influence of entertainment integrations across a year's worth of advertising campaigns. Even have influencers boost your ad campaign across social media.
Word-of-Mouth
Amplify the talk value of every brand you manage. Get multiple entertainment properties to talk about your brand in the their upcoming production.
Negotiate on your Terms
Once you and your desired entertainment creators approve the deal, use our helpful task tools, tips and assistance if you need.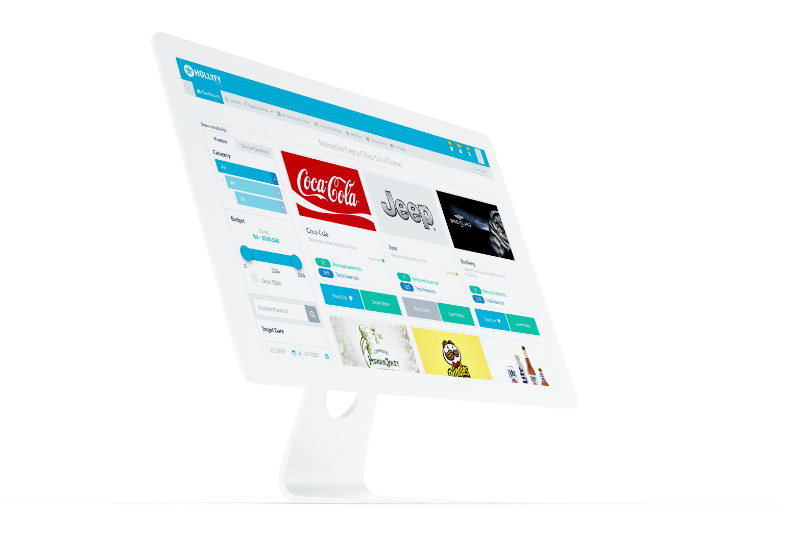 Why Be an Outsider
When You Can Be an Insider
Make your brand part of the storyline so nothing can come between you and your audience. Brand integrations in TV, movies, song lyrics, music videos and influencer posts generate word-of-mouth in perpetuity. They're more effective in driving recall, affinity and purchase intent than skippable commercial adverts.
Movie Productions

100%

100%

Broadcast TV

100%

100%

Streaming TV

100%

100%

Video Games

100%

100%

Music Videos

100%

100%

Song Lyrics

100%

100%

Concerts

100%

100%

Celebrities

100%

100%

YouTubers

100%

100%

Instagram

100%

100%

Twitter

100%

100%

Facebook

100%

100%

Snapchat

100%

100%

LinkedIn

100%

100%

Fashion blogs

100%

100%

Travel blogs

100%

100%

Tech blogs

100%

100%
Smart Advertising
Attentive audiences and efficacy are paramount for brand consideration, awareness and relevancy. Partnerships are an exponential multiplier.
Wide Range of Entertainment
Open access system gives you ability to work with entertainment productions from blockbuster movies to specialized influencers.
Amplify Ad Campaigns
Support existing advertising campaigns or use these brand integrations to create new campains. Leverage the influence of entertainment to amplify word-of-mouth talk value and control the cultural zeitgeist surrounding brand perception. 
Brand Boosts
HOLLYFY simplifies media buying inside entertainment content and advances your advertising marketing mix with next generation features and machine learning.
Your questions answered
For more helpful suggestions, best-practices, optimizations, content guidelines, responsibilites and general knowledge…visit our help center.
Can any brand be on HOLLYFY?
It's easy to use HOLLYFY in most areas. Luxury autos, women's apparel, fast food restaurants, headphones, vehicles, hotels, banks, toys, electronics, candy, and even chainsaws are just a few brands who have shared on HOLLYFY.
How should I choose a budget range?
The budget range for your brand integration listing is completely up to you. To help you decide, you can use the audience size, audience demographics, and type of integration (eg/ screentime, storyline, visual, audio, etc.) to negotiate the final integration cost. (eg/ more attentive viewers = higher the price).
Can I oversee multiple brands?
Yes.
Manage multiple brands from your dashboard on HOLLYFY. Each brand can have different campaing integration needs, but your advertising agency can oversee them all easily. 
Start with the 'Professional' plan to manage multiple brand accounts. If you need more, simply upgrade to the 'Business' or 'Enterprise' plan later.
Add-on features, additional listings and other services can be applied as needed.
Can HOLLYFY help me with integrations?
HOLLYFY's concierge service works with you to set your budget and types of integrations for optimal results. Simply add the service to any page after signing in.
You're always responsible for your budget, so concierge service makes suggestions, performs outreach, helps find potential partnerships and you can adjust terms any time.
What is required of creators before reserving the brand integration?
We ask everyone who uses HOLLYFY for a few pieces of information before they earn verification status. Creators are recommended to have this info filled out before they can take an offer. This info helps make sure you know who to expect, and how to contact the creator.
HOLLYFY's requirements for verification include:
• Full name
• Email address
• Confirmed phone number
• LinkedIn verification
• Agreement to terms of use
• Payment information
Creators are expected, but not required, to have a verified account. You may also require creators to provide verification before confirming the brand integration.
Boost
Advertising Campaigns
Branded entertainment can amplify your campaign message into the cultural zeitgeist. Match with entertainment partners and expand your marketing mix ecosystem exponentially.